Isis Queen of the Barb Wire Dolls
by Marija Brettle
– Columnist —
— November 07, 2014, London —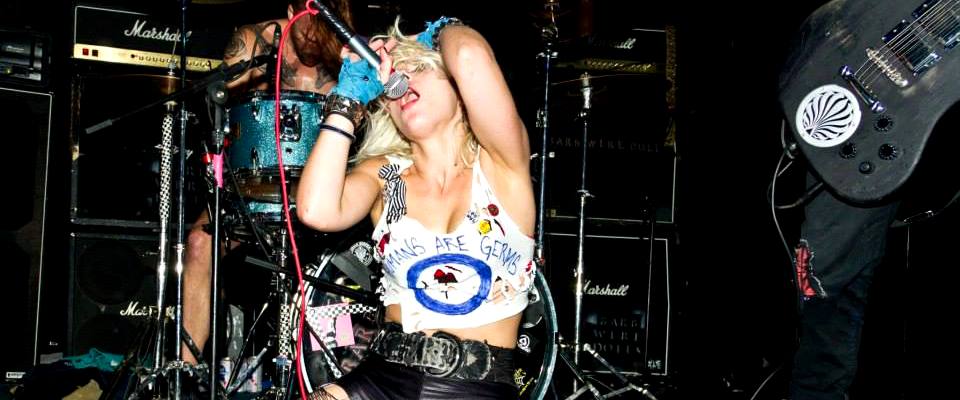 Back in the 2010, at the top of the newly emerging LA punk scene, Greek punk rockers Barb Wire Dolls have fast become one of the must–see bands. By keeping true to their punk ideals they soon build up reputation for their blistering live-high energy rock shows and their raging-guitar, hook-filled classic debut album.
Fronted by the enigmatic blonde bombshell Isis Queen, Los Angeles-based Barb Wire Dolls formed at the Ikarys, a remote artist commune on the island of Crete in 2008. With Greece in a state of political turmoil and bankruptcy, fate and destiny intervened when the legendary DJ of L.A.'s KROQ, Rodney Bingenheimer discovered the band and started playing theirs' EP non-stop. He invited the band to perform in Hollywood and within a few weeks Barb Wire Dolls moved to Venice Beach in Los Angeles and the rest is 'epic history.' "Grecian imports Barb Wire Dolls have taken the Sunset Street by storm," writes the Roxy Theatre as their U.S. debut show at the famed venue sold out. After selling out and packing monthly residencies in the L.A. area from the Viper Room, On the Rox to the Doll Hut, Barb Wire Dolls headed out to conquer the rest of America. As some of the music critics writes, "Barb Wire Dolls are the most important punk invasion to the USA since the Sex Pistols!"
In 2012 the Greek four-piece; vocalist Isis Queen, Guitarist Pyn Doll, bassist JayJay Doll and drummer Krash Doll, released their much anticipated debut album Slit, masterminded by legendary producer Steve Albini.
The band toured throughout 2012 and half of 2013 in the U.S. playing over 300 shows including headlining the festivals Texas Showdown, Ink Life, Brincadeira and Rock4Unity. In May 2013 the band started their first European tour to promote Slit. This year, after a successful U.K.-European tour, Barb Wire Dolls are set to record their sophomore album in Texas at Sonic Ranch. The new studio album Rhythm Method is set for an official release in the summer of 2015.
Before they head off to the U.S., Hardrock Haven caught up with the Los Angeles based singer Isis Queen. She discusses why she had to rebel against everything at a very young age and what punk music really means to her. She also talks about why their debut is a big slap in the face to all that's been labeled 'punk' over the last two decades, their new coming album, Rhythm Method as well as the hopes for the band …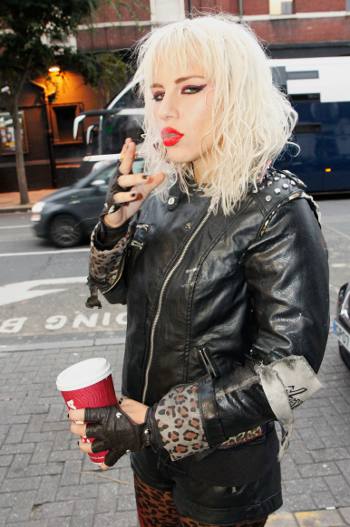 HRH: Hi Isis, thank you for making the time for this interview! For any punk rock band playing in London must be like going back to the homeland of the punk rock music-full circle! I hear some punk icons came to see your show? (12th of October 2014, BWD played at the London's Purple Turtle Venue)
ISIS: It was the fourth time we played in London and each time we play this magical city, something new happens! This night, we had some amazing punk legends show up and that added to the electricity of the show. I can only imagine what London must have been like in 1977.
HRH: When you came on stage, from the start the audience went wild. Punks of all ages, hungry for punk with substance … and yeah, there was no fighting, spitting or throwing things at the band, like in the early days of the punk music?
Isis: The punk of 1977 is long gone but because they say 'punks never die,' something rebellious still lingers on in even the punks that lived through the first wave. Our shows are about release and awareness and like a wake up call alarm! The music and live performance is there to inspire you to change what you don't like about your life and start doing something about it. We are not necessarily rebelling against all authority, but more of having an inner revolution to awaken the souls' desires and to act on it so one can live a fulfilling life!
HRH: Your performances and the way you interact with the crowd appear to be quite sexually charged and provocative. Can you share any interesting stage experience or stories that you can't forget in the hurry-good or bad?
Isis: Our shows were much more 'sexually charged' before, but I have been arrested (charges dropped later on) for indecent exposure and for inciting a riot! (Laughs) I look at a show as a sexual release too and I get off on stage. Sex after a show is always more sweaty, wild, and full of passion. The show is the greatest foreplay a woman can heated up to!
HRH: In your songs seems like you hold a lot of anger, rage and hunger to shock and outrage. Tell me where this rage and aggression comes from? What makes you so angry?
Isis: I started working as a cocktail waitress and later as a dancer in a club at age 14 in Athens, Greece because my mother who was working many jobs to take care of me and my sister just wasn't enough. I moved out early from my broken home and did what I needed to survive. I was very angry at my father who did certain things to my mother and our family and I found refuge in escaping reality. I hated my life at one point so much that I thought there was no way out and suicide was the only answer. I just had to rebel against everything back then. I didn't know I had any creative outlet which I have now in singing and all that pent up aggression and anger stems from being stifled creatively.
To continue reading the interview click the number link below: