by Justin Gaines
– Senior Columnist —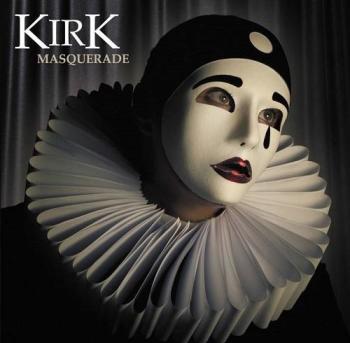 It took more than a decade, but Swiss melodic progressive/power metal band Kirk is finally back with a follow-up to their 2003 debut The Final Dance. Their new album is titled Masquerade, and in addition to featuring a new drummer – Philipp Eichenberger – the album sees the return of producer Dennis Ward (Pink Cream 69, Unisonic). Kirk is signed to the Mausoleum label this time around, which seems like an odd home for this kind of polished progressive/power metal.
Kirk isn't reinventing the wheel here. There are a lot of bands that play this kind of highly melodic, highly accessible mix of progressive and power metal – think Circus Maximus, Pagan's Mind, Vanden Plas and Mind Key – and Kirk fits nicely alongside them. Actually, given vocalist Thomas Rauch's uncanny similarity to Geoff Tate – at least in the midrange – Kirk sounds a lot like Promised Land-era Queensryche here, which is not a bad thing at all. While Rauch's vocals are an obvious highlight of this album, it helps that he's been given some very impressive songs to sing. The musicianship is high caliber, and Kirk hits that sweet spot between technicality and melodic accessibility. There's a good deal of heaviness too, which may bring to mind Brainstorm and At Vance.
This is just a rock-solid album from start to finish, and one without any obvious filler tracks. Still, Masquerade does have some songs that stand out. On the front end, the back-to-back-to-back series of "Supersonic Speed," "Masquerade" and "Eternity" do an amazing job of gaining – and keeping – listeners' attention. And later on, "Tragedy" and "The End of the Universe" show some real power while "Fallen Angel" ends things on almost an AOR note.
Between Masquerade, the self-titled Queensryche album and recent albums by Mindcage and Malison Rogue, fans of the classic Queensryche sound have a lot to celebrate lately. Kirk delivered a very solid, very easy to get into, progressive/power metal album here, and one that should satisfy anyone who enjoys melodic metal in general. Here's hoping it doesn't take another decade for album number three!
Genre: Progressive Metal, Power Metal, Melodic Metal
Band:
Daniel Pfister (b)
Philipp Eichenberger (d)
Sammy Lasagni (g)
Bruno Berger (k)
Thomas Rauch (v)
Track Listing:
1. Devil's Claw
2. Supersonic Speed
3. Masquerade
4. Eternity
5. Fight or Die
6. Nothing Else But Lies
7. Time
8. Tragedy
9. Face in the Crowd
10. The End of the Universe
11. Fallen Angel
Label: Mausoleum
Website: www.kirk.ch
Hardrock Haven rating: 8/10