by Joe Mis
– Senior Columnist —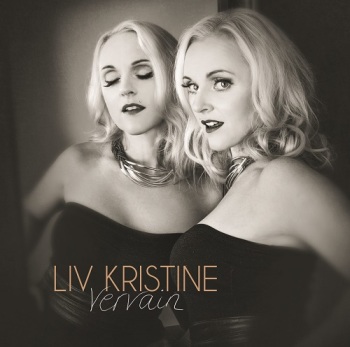 Vervain is the latest solo release from Norwegian-born singer/songwriter Liv Kristine, who is also the lead singer for the symphonic folk metal powerhouse band Leaves' Eyes and former front-person of Theatre of Tragedy. Like Liv's other solo efforts, Vervain is not a symphonic or folk metal release, but rather a fluid and modern rock album blending Gothic rock with hints of metal. Vervain is almost a full return to Liv's Gothic rock roots, as she has left out many of the pop influences and lighter touches that were evident her last CD. This is her fifth studio release, following up on Deus Ex Machina (1998), Enter My Religion (2006), Skintight (2010), and Libertine (2012).
Vervain continues the mature and intelligent songwriting that was the true strength of Libertine. Liv's performance is filled with warmth, creativity, and emotion – but now focusing on some darker themes without becoming maudlin or lackluster. Obviously Liv's vocals are the core of her music, but as usual she has surrounded herself with a fine (and familiar) supporting band. The cast includes Atrocity front-man and Liv's Leaves' Eyes partner (and husband) Alexander Krull (keyboards, programming), guitarist and bassist Thorsten Bauer, pianist Alessandro Panto, and drummer Felix Born. Masterfully produced by Krull, Vervain conveys the true spirit of Gothic rock – moody, mysterious, yet warm and familiar.
The up-tempo "My Widerness" opens the CD. Liv's voice is sultry and sensual, flowing smoothly over a bubbling bass line and subdued but ever-present keys. A very gritty guitar sound kicks in at roughly the half-way point adding a wall of sound that takes the song to its climax. On the very Gothic "Love Decay" Liv is joined in a vampire-inspired duet with End of Green's Michelle Darkness. The contrast between their vocal styles makes for a truly memorable tune. "Vervain" is probably the lightest song on the album, more of an up tempo rocker with a punchy guitar riff and a very expressive vocal line. It remains Gothic in theme, inspired by the mystical (and anti-vampire) herb of the same name. Liv is joined by veteran vocalist Doro Pesch (Warlock, solo) in a memorable duet on the heavy "Stronghold Of Angels" – a treat for fans of both singers. Doro's edge works so well with Liv's natural flow on this track – a great contrast and a true highlight.
"Hunters" rolls in more electronic elements on top of a driving beat, while the piano driven ballad "Lotus" highlights the softer, more emotional side of Liv's amazing voice. A smoky beat and electronic elements combine with multi-layered vocals on the upbeat "Elucidation," one of the lighter tracks on the CD. Lush vocals and strong, image laden lyrics, and an amazing drum line make "Two and a Heart" an emotional journey. "Creeper" brings a heavy, almost pure metal riff to the fore, balanced by Liv's exquisite vocals and some superb bass and keyboard work during the verses. "Oblivious" continues the heavier, more somber tone. Liv is on top of her game vocally, and her efforts are perfectly complemented by the band – a solid closing number.
Vervain will please Liv's fan base, as well as Gothic rock and metal fans around the world. While not as diverse as some of her prior releases, Vervain has allowed the now refocused Liv Kristine to bring all of her strengths to bear, producing a truly quintessential Gothic rock event. Vervain is Liv's heaviest release to date, having none of the folk metal elements that define her work with Leaves' Eyes, and avoiding the commercial touches that were present in her earlier solo efforts. Liv proves herself once again to be a fine vocalist – a singer's singer – and a fine songwriter.
Vervain is very highly recommended!
Genre: Gothic, Melodic Rock
Band:
Liv Kristine (vocals)
Thorsten Bauer (guitars, bass)
Alexander Krull (keyboards, programming)
Alessandro Panto (piano)
Felix Born (drums)
Guests – Michelle Darkness (duet vocals on track 2), Doro Pesch (duet vocals on track 4)
Track Listing:
1. My Wilderness
2. Love Decay (feat. Michelle Darkness)
3. Vervain
4. Stronghold of Angels (feat. Doro Pesch)
5. Hunters
6. Lotus
7. Elucidation
8. Two and a Heart
9. Creeper
10. Oblivious
Label: Napalm Records
Website: www.livkristine.de
Hardrock Haven rating: 9/10