by Justin Gaines
– Senior Columnist/News Editor —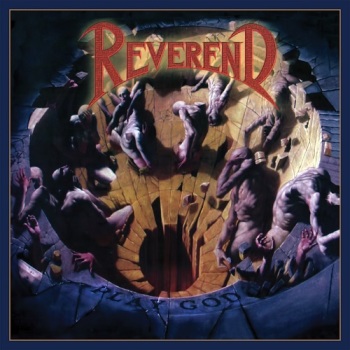 Originally released in 1991, Play God was the second full-length album from Reverend, the power/thrash metal band formed by vocalist David Wayne (R.I.P.) after his departure from Metal Church. In the year since Reverend's debut (1990's World Won't Miss You) was released, the band brought in a new bassist and drummer, but the creative core of Wayne and guitarist Brian Korban (also known for his work in Heretic) was intact and in prime form on Play God.
It's not surprising that Reverend's sound brings to mind both Metal Church and Heretic given Wayne and Korban's histories, but on Play God it's two other bands that come to mind. The cutting and cynical socio-political lyrical content is very reminiscent of Testament, and the overall musical approach – part thrash and part power metal – is right up there with prime Vicious Rumors. There's such a great heaviness here, but matched with real speed and just enough melody, and of course no one sounded quite like the late David Wayne, whose raspy wail had so much power and character.
Play God is such a tight, cohesive album it's hard to call out favorite tracks, but Reverend really seemed to shine best when they were skewering religion and censorship, as they did on "Warp the Mind" and "Blackened Thrive." Even the anti-war message of Creedence Clearwater Revival's "Fortunate Son," which Reverend blisteringly metalizes here, fits perfectly with the overall tone and character of Play God.
Sadly, this was the final Reverend full-length and the last time Korban and Wayne collaborated. It remains a high point in the David Wayne legacy, and a great example of the American power/thrash sound at the time. It's obviously a must-have release for Reverend/Metal Church/Heretic fans, but will also appeal to fans of Testament, Vicious Rumors, Armored Saint and Helstar.
Edition Notes: Divebomb's deluxe 2014 reissue of Play God gives this long out of print album a much needed upgrade. The album has been remastered by Jamie King, who has done such stellar work on previous Divebomb reissues. It also features a liner notes loaded with lyrics and band/album historical info (including an interview with Brian Korban) and includes the full 1991 Live EP as bonus tracks. It's a very impressive reissue overall, and one that – along with their reissue of World Won't Miss You – is a worthwhile upgrade even if you already own the original version.
Genre: Thrash Metal, Power Metal, Heavy Metal
Lineup:
Angelo Espino (b)
Brian Korban (g)
David Wayne (v)
Jason Ian (d)
Track Listing:
1. Butcher of Baghdad
2. Heaven on Earth
3. Fortunate Son
4. Blessings
5. Promised Land
6. Play God
7. Warp the Mind
8. What You're Looking For
9. Blackened Thrive
10. Death of Me
11. Far Away
12. Gunpoint (live)
13. World Won't Miss You (live)
14. Scattered Wits (live)
15. B.O.B. (live)
16. Promised Land (live)
17. The Power of Persuasion (live)
Label: Divebomb Records
Hardrock Haven Rating: Original album: 8.5/10, reissue: 9/10