Starblind | Darkest Horrors
by Justin Gaines
– Senior Columnist —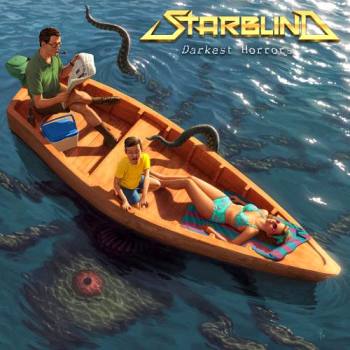 Starting with Wolf and carrying on through bands like Enforcer and Air Raid, Sweden has been at the forefront of the traditional heavy metal revival. Stockholm-based Starblind is the latest Swedish band to pick up the banner of old school heavy metal in the new era. The band, which features former Steel Attack drummer Micke "Mike" Stark on vocals, released their debut album, titled Darkest Horrors, on the Stormspell label earlier this year.
You can tell right off the bat that Starblind's influences are the usual suspects – namely early '80s Judas Priest and DiAnno-era Iron Maiden. The guitars alone hammer that sound home. Beyond that there's a strong Exciter vibe on Darkest Horrors, and there's also something in the vocals, particularly around the choruses, that brings to mind early power metal bands like Gamma Ray and Scanner. Stark turns in a surprisingly strong performance on vocals, delivering a solid mid-range and some killer screaming.
Any time you're essentially throwing NWOBHM, Canadian speed metal and early power metal in a blender, the results are going to be fun, and this a totally fun old school metal album. Darkest Horrors has infectious guitar melodies, powerful vocals and an obvious love for classic heavy metal. "Blood in the Night," "The Great Hunt" and especially the title track are the highlights, but the whole album is solid.
Starblind may be treading on very familiar ground, but that's the whole point with these retro bands. Still, there's a difference between digging a band because they have an sold school sound and really getting into them because of their own unique characteristics (see: Wolf and Air Raid). Starblind isn't quite in that latter category, at least not yet. That said, there's plenty for fans of the new wave of traditional metal bands – especially bands like Rocka Rollas, Johnny Touch and Skelator – to enjoy on Darkest Horrors. Starblind delivered the goods with this album, and it will be interesting to see where they go from here.
Genre: Heavy Metal, Traditional Metal
Band:
Daniel Tillburg (b)
Zackarias Wikner (d)
J.J. Glitter (g)
Bjorn Rosenblad (g)
Mike Stark (v)
Track Listing:
1. Ascendancy
2. Blood in the Night
3. Crystal Tears
4. Darkest Horrors
5. The Reckoning
6. Mountain of Madness
7. The Great Hunt
8. I Stand Alone
9. Temple of Set
Label: Stormspell Records
Website: www.starblind.se
Hardrock Haven rating: 7/10