Stephan Forte | Enigma Opera Black
by Alissa Ordabai
– Senior Columnist —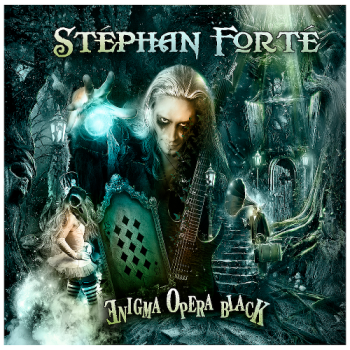 Forte's dazzling 2012 debut established him as a new generation torch bearer of neoclassical shred, but now the Frenchman ventures further afield with a sophomore record. Flashy chops on an aptly titled opener "Short Virtuosity Etude" confirm his penchant for OTT Malmsteen-esque flamboyance. But what follows next expands the classically-inspired dogma: key track "Enigma Opera Black" steps into Rob Zombie-style turf with staccato electronica beats, cinematic noises, and a kaleidoscopic soundscape that manages to sound both playful and ghoulish, a kind of unhinged fun no one's expected of Forte. Surrendering highly disciplined, meticulous approach to composition for free-wheeling experimentation turns his neoclassical rigor of purpose into a quirky discovery expedition.
That is not to say that Forte now sounds less ambitious as a writer. The through-composed standout "Zeta Nemesis" (featuring Marty Friedman) contrasts different moods and vibes with such lofty swagger, it instantly makes you sit up to this fresh lift to neoclassical guitar. Showers of notes poured over angular riffs and haunted melodies, combinations of the trashy and the mystical, throw together imagery a Grimm tale for the 21st century —a mishmash of self-irony, atmospheric tension, and plenty of unexpected twists and turns. All this is grounded in exceptional chops and multi-layered understanding of how things work — not only in rock, but on a wider musical terrain.
Forte's ability to tell real stories, his imagination, and a widening focus not only confirm his talent, but allow neoclassical metal stay relevant. His shred pals who guest on the album include not only Friedman, but also Marco Sfogli, Andy James, and Paul Wardigham. The ensuing panoramic soundscape shows that shred not only remains alive, but continues to source from an ever increasing range of styles to keep itself healthy.
Genre: Neoclassical, Heavy Metal, Progressive Metal, Instrumental Guitar
Musicians:
Stephan Forte — guitars
Kevin Codfert — keyboards
Franck Hermanny — bass
Morgan Berthet — drums
Track listing:
1.Short Virtuosity Etude
2.Enigma Opera Black (featuring Andy James)
3.Zeta Nemesis (featuring Marty Friedman)
4.Sector A UNDEAD (featuring Paul Wardingham)
5.Pure
6.Entering Sigma Scorpii
7.Praying Lord Bhairava at the Foot of Mount Kailash
8.Suspended Tears into Space (featuring Marco Sfogli)
9.Peace
Label: Zeta Nemesis Records
Online: www.stephanforte.org
Hardrock Haven rating: 8/10