AlogiA | Elegia Balcanica
by Joe Mis
– Senior Columnist —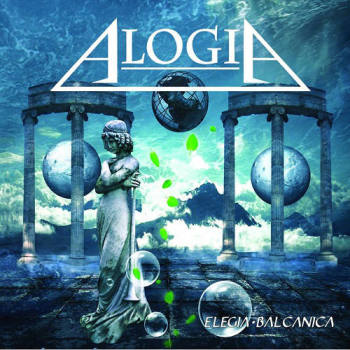 AlogiA is a progressive metal band from Serbia, and their popularity proves that music is a universal language (despite producing most of their material in their native Serbian tongue). In fact, AlogiA has developed such an international following that they've released an English language recording of their debut, and are working on the translation of their latest, Elegia Balcanica. They've opened for some well known names too: Whitesnake, Apocalyptica, Savatage, and Paul Di Anno – to name a few.
AlogiA was founded back in 2000 by guitarists and brothers Miroslav and Srđan Branković. This powerhouse pair is joined by dynamic vocalist Nikola Mijić, bassist Vladimir Ranisavljević, drummer Srđan Golubica, and keyboard player Vladimir Đedović. Elegia Balcanica is the band's fifth studio release, following up on Priče o vremenu (Tales of Time) – 2002, Priče o životu (Tales of Life) – 2004, Secret Spheres of Art (the English version of the first album) – 2005, and Priče o snovima (Tales of Dreams) – 2012. AlogiA has also released a live concert CD and DVD, entitled Priče o vremenu i životu (Live at SKC) in 2006.
While billing themselves as a progressive metal band, they are not a Dream Theater sound-alike by any means. There are heavy and obvious influences of power metal, old school hard rock, and hints of Balkan folk / ethnic music. For those looking for a taste, the official video of the title track is available at http://youtu.be/p3uZ9vLKjWk for your viewing pleasure.
"Almagest" is an instrumental prog metal feast for the ears filled with razor sharp guitars, lush keys, strong rhythms and many timing and tempo changes. It flows into "Callis Ad Astra," a very prog tune that gives Nikola Mijić a change to truly shine as a singer, while the awesome rhythm combo of Ranisavljević and Golubica proves itself to be among the best in the business. This track also allows hint of folk rock to be heard, making it a unique piece. "Galija" is an aggressive yet melodic tune, built around drums, keys, and aggressive rhythm guitar. "Vreme Je" has an almost 80s hair-metal feel to it, and it features some great manic drum work and machine gun bass. The title track features some incredibly tight guitars (both rhythm and lead), well done keyboards, Balkan folk influences, and a stellar vocal delivery – one that allows Mijić to hit all areas of his impressive range.
"Ona Zna (Lilith)" is an upbeat, modern metal rocker with a nice flowing vocal line, while "Inferno" is just that – a massive wall of sound sure to warm the hearts of the most die-hard power metal fans. "U Tišini" is a guitar driven mixture of hard rock, progressive metal, power metal – almost every heavy genre you could name – a diverse showcase of the band's musical talent and songwriting skills. The bonus track "Intentionally Blind" is a collaboration with the Bosnian black-metal band Silent Kingdom – and is radically different due to the black metal growling vocals, but it still presents the super-tight performance of AlogiA's musicians in fine form.
Whether or not you speak Serbian, AlogiA's Elegia Balcanica is a solid album musically. The band is equally at home with hard and heavy or ballad, and the Balkan-tinged ethnic elements add a touch of uniqueness. There is no doubt that the guys in the band are extremely comfortable working together, playing as the true veterans they are. The overall quality of the music is only emphasized by the strong engineering and a great sounding mix. There are really no obvious negatives save for the fact that it is a non-English language performance – but in any language AlogiA rocks!
AlogiA is a solid band now, and their future looks bright! Elegia Balcanica is recommended for fans of progressive metal or power metal – whether or not you speak Serbian.
Genre: Progressive Metal
Band:
Nikola Mijić (vocals)
Miroslav Branković (guitars)
Srđan Branković (guitars)
Vladimir Ranisavljević (bass)
Srđan Golubica (drums)
Vladimir Đedović (keyboards)
Track Listing:
1. Almagest
2. Callis Ad Astra
3. Galija
4. Vreme Je
5. Elegia Balcanica
6. Ona Zna (Lilith)
7. Inferno
8. U Tišini
9. Intentionally Blind
Label: Miner Records
Website: https://www.facebook.com/alogia.official
Hardrock Haven rating: 8.5/10