Ancient Empire | When Empires Fall
by Justin Gaines
– Senior Columnist/News Editor —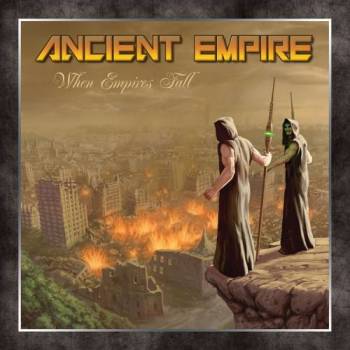 When Empires Fall is the 2014 debut album from San Francisco-based traditional heavy metal band Ancient Empire, which was put together by Shadowkiller (and ex-Rocka Rollas) frontman/guitarist Joe Liszt alongside ex-Rapid Fire rhythm section Rich Pelletier (bass) and Steve Pelletier (drums). Unsurprisingly given Rapid Fire, Shadow Killer and Rocka Rollas' history, the Ancient Empire debut comes to us on the Stormspell label.
Ancient Empire's sound is still in the same traditional metal arena as the members' previous bands, but they take a heavier, more power/thrash approach along the lines of Iced Earth and Vicious Rumors. It's less catchy and more serious, and, it must be said, less enjoyable as a result. Oh, there are moments where you'll find yourself nodding your head and getting into the songs, like opening thrasher "Wings of Steel" and the closing title track. For the most part though, When Empires Fall just kind of fades into the background. It's a solid enough disc in terms of musicianship and vocals (Liszt sounds a bit like Matt Barlow at times), but it's not a very memorable one.
The power/thrash sound is a tough one to make an impact in. Unless you have insane riffwork (a la Iced Earth) or effective melodies, you end up in a forgettable middle of the road status. Some bands manage to stand out – see Imagika and Witches Mark – but Ancient Empire falls short. Again, When Empires Fall is a perfectly solid disc, but when it stops spinning you'll be hard pressed to recall any of the songs you just heard.
Unless you're a serous fan of the players involved or are a die-hard disciple of power/thrash bands like Vicious Rumors, Ancient Creation, Helstar, Imagika and Iced Earth, you probably won't get a lot out of When Empires Fall.
Genre: Heavy Metal, Traditional Metal
Band:
Joe Liszt (v) (g) (b)
Steve Pelletier (d)
Track Listing:
1. Wings of Steel
2. The Final Day
3. In the Killing Fields
4. Shadow of the Cross
5. Valley of Slaughter
6. Prophecy Revealed
7. Ghost Soldiers
8. Ancient Empire
9. When Empires Fall
Label: Stormspell Records
Website: www.facebook.com/ancientempiremetal
Hardrock Haven rating: 6/10