by Joe Mis
– Senior Columnist —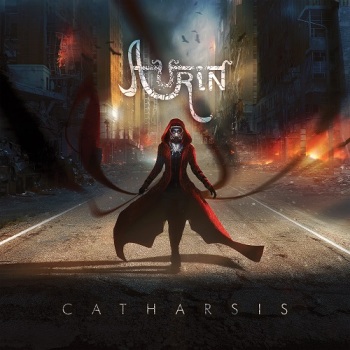 Aurin is a four piece alternative rock act hailing from New Jersey, and the band has just released a new CD entitled Catharsis. A heavy blend of alternative, new metal, and dark rock elements, Aurin's music and lyrics are modern yet raw, and packed with passion. While delivered with fire, the strong technical performances on the band's major label debut are marred by a sub-par mix and unfortunately a lack of compelling originality.
Founding guitarist Andrew Wayne joined up with drummer Linda Medina in 2009, and recruited vocalist Sarah Anderson in 2010. His goal, according to the band's own web site, was "…to write music that appealed to the mind, heart, soul, and emotions of the listener by combining beautiful harmonies with an in-your-face heavy-type of style." The trio wrote and recorded Catharsis, and later added bassist Joe Palamara to complete their live band lineup.
"November" opens the album with a distinctly Lacula Coil vibe. There is an overall muddiness to the mix, with a lot of the mid range guitar and bass drowned out by vocals (which sound fabulous) and cymbals (boosted high enough to be distracting). Wayne's guitar break is solid and effective, but his rhythm work is lost in the sonic woods. The sound is different on "Asphyxiation" with the bottom end dominating the rest of the music, and occasionally drowning out the clarity of Anderson's vocal delivery. Wayne's rhythm guitars are strong, dishing out a catchy riff, as are Anderson's vocals on the bridge. Again, the drums as a whole are mixed in way too strongly distracting from the melody. "Stained" features some fine bass work and an almost '70s Black Sabbath groove, and "Vermin" presents Medina's intricate drumming in a fine light. "Nothing Left" starts out as a softer, almost ballad-like tune, but becomes heavier at the chorus highlighting bass and guitar.
A nice acoustic guitar line and Flyleaf style vocals make "The Other Side" one of the better songs on the release. It is much more listenable as it seems that some of the edge has been taken off the highs giving it a more balanced feel. "Over" gives vocalist Anderson a chance to play with layers and self-harmonies and she does it well, while Wayne's guitars shine on the gritty "Hysteria." "The Reprisal" adds a lot of keys and electronics (mixed in distractingly high again) over a superb driving bass and drum line. "Last Wish" is a well done acoustic number that will immediately remind almost any listener of the Goo Goo Dolls. Wayne takes the vocal lead here – doing a capable job, but a larger contribution by Anderson would have made a good, "different" song even better. As a bonus, Aurin has added a remastered version of "Holding On", a heavily Lacuna Coil influenced track. The bass work and vocals are again excellent, but the sound quality is still sadly lacking – making one wonder what the original "un-remastered" version sounded like…
Looking at Aurin's Catharsis as a whole, the album disappoints. There are flashes of brilliance, particularly Linda Medina's energetic and flashy drum work and the overall quality of Sarah Anderson's vocals. Andrew Wayne's guitars are generally effective, and some of his solo runs are outstanding. Sadly many of these good aspects are buried under the inconsistent engineering. Aurin is also stuck in a bit of a rut composition-wise. Every track seems to have the same plodding and pounding tempo – with bellowed slow-flowing vocals over an aggressive rhythm line. While each song is reasonably well-crafted they all sound like they've come from the same template – and the endless parade of negative lyrical imagery becomes downright depressing.
Aurin right now is a band with a lot of unrealized potential. The raw talent is there on all fronts – but the band needs more seasoning and experience. Varied tempos and song styles, and an occasional upbeat track would do wonders, as would better engineering. For the moment, Catharsis is simply a non-event musically, but one that displays hints of real, raw talent. With the right guidance and production team, Aurin could become a creative force on the Alternaive/Gothic Rock scene, rather than just another cookie-cutter new metal wannabe.
Genre: Alternative Rock
Band:
Sarah Anderson (vocals)
Andrew Wayne (guitar, vocals)
Linda Medina (drums)
Joe Palamara (bass)
Track Listing:
1. November
2. Asphyxiation
3. Stained
4. Vermin
5. Nothing Left
6. The Other Side
7. Over
8. Hysteria
9. The Reprisal
10. Last Wish
11. Holding On (Remastered)
Label: Pavement Entertainment, Sony RED, Plastic Head
Website: http://aurinband.com/
Hardrock Haven rating: 5/10