Eternal Enemies Tour: Emmure with The Acacia Strain
by Jonna Ambur
– Senior Photojournalist —
November 25th, 2014 at Webster Theater in Hartford, CN. —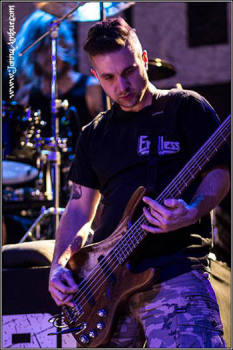 Emmure is headlining the Eternal Enemies Tour in support of their newest release, Eternal Enemies which dropped in April 2014. A circle pit, crowd surfing and all around balls to the freakin' wall Metalcore was the theme of the night. New York and Connecticut joined forces in 2003 and Emmure was born. Six albums later, these guys have put their feet in cement and made a name for themselves that resonates through the genre. Metal crunch, killer breakdowns, strong vocals with well placed interspersed rap verses, Emmure has proven they deserved the packed theater that stood before them.
EMMURE is:
Frankie Palmeri – vocals
Jesse Ketive – lead guitar
Mark Davis – bass
Mike Mulholland – lead guitar
Adam Pierce – drums
The Acacia Strain joins Emmure on this tour after their seventh release, Coma Witch, dropped in October 2014. Founded in 2001, the Deathcore band from Massachusetts proved the perfect to be the perfect support band to get the bone crushing started.
The Acacia Strain is:
Vincent Bennett – vocals
Kevin Boutot – drums
Jack Strong – bass
Devin Shidaker – lead guitar
Richard Gomez – rhythm guitar
LIVE!| Emmure with The Acacia Strai Concert Photo Gallery