In This Moment … Brink's Birthday Bash
by Anabel Dflux
– Senior Photojournalist —
December 14th, 2014 at the House of Blues in Hollywood, CA. —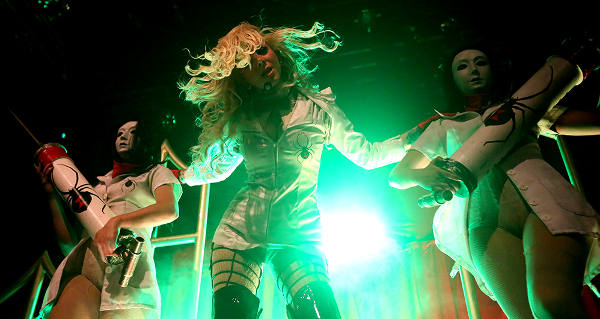 One of the most, if not the most, theatrical heavy metal band to hit the states is In This Moment. The band delivers a dark and twisted Broadway-style performance intermingled with passionate vocals and very heavy riffs. A sight to see and a sound to hear, this is a band that breaks down genre barriers and shows the world what a concert should be: an experience. Somehow, this act managed to fuse dancers with heavy metal musicians, and nothing looked out of place.
The Black Widow Tour hit the House of Blues in Hollywood, the band's home. The show conveniently fell on the vocalist, Maria Brink's birthday, which featured a sweet interlude and birthday surprise by her respectable show members, a magical night for fans indeed.
Every song featured costume changes and prop variations, which gave each track its own special moment (pun intended). The performances mimicked the band's music videos, from elegant gold claws and large wings, to the black widow web. Audience interaction was an absolute must for In This Moment, as each member engaged with concert goers in various ways- from talking directly to them, to pulling a girl on stage. All age ranges could be seen in the crowd, as this musical ensemble certainly found a way to appeal to a large array of people- with some fans admitting to traveling hundreds of miles to see In This Moment as many times as they possibly could.
Maria Brink's vocals were just as powerful and passionate live as in studio recordings, while guitarists Chris Howorth and Randy Weitzel absolutely killed it in on their instruments, showing the world just how exceptionally skilled and talented they are. Bassist Travis Johnson can't be forgotten, his energy could be felt all the way to the back of the venue. The trio found themselves on the stage podium in between one of the costume changes, electrifying the venue with their solo. Drummer Tom Hane gave a fun and powerful beat from his side of the stage.
This ia a band you shouldn't miss on their ride to fame. In This Moment is here to dominate the world.
In This Moment Concert Photo Gallery
Members:
Maria Brink – Vocals
Chris Howorth – Lead Guitar
Travis Johnson – Bass
Randy Weitzel – Guitar
Tom Hane – Drums
Connect with In This Moment at http://inthismomentofficial.com/landing/.