by Alexandra Mrozowska
– Senior Columnist —
To call this Italian musician a man of many parts is no exaggeration – in fact, if you think about the living institutions of melodic rock these days, the name of Alessandro Del Vecchio is one of the first that should have come to your mind. From his work behind the console to his keyboard/Hammond organ wizardry and the extraordinary, well-trained voice, the aulic producer of Frontiers Records, a member of many a band and a mastermind of quite a few projects is perhaps one of the busiest musicians on earth! But even though all these are facts, Alessandro has found some time for a friendly chat with Hardrock Haven about his recent endeavors and what the future holds in store for him.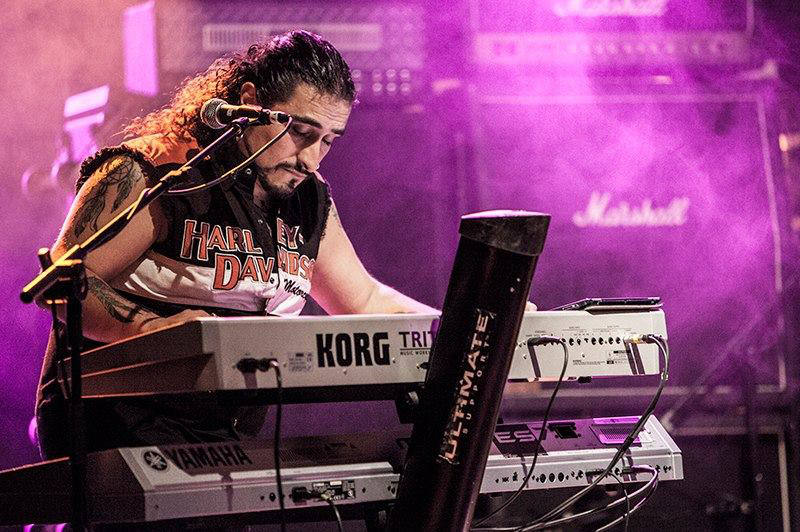 Hardrock Haven: When we talked for the last time, it was 2010. Throughout these four years, you've managed to turn yourself into the busiest musician on earth! How do you manage to find time to pursuit all your activities as a producer, musician, songwriter, the voice teacher… – and remain passionate about what you do?
Alessandro Del Vecchio: Ciao Alexandra. Wow… 4 years…? Seems it was just yesterday! Well, I am a driven person and I wanna waste no time. I think in this business there's no place for those who don't give one hundred per cent or even more. After all, there's always somebody to jump on the train you built, so you'd better ride it and fast!
Hardrock Haven: Which part of your career is the most important or the most satisfying for you at the moment?
Alessandro Del Vecchio: Obviously in this moment the most rewarding one is the production side of my carrier. But I am very happy of everything I do. I'm lucky I can produce musicians I grew up with, tour with my bands and still manage to do vocal seminars and teach vocals all through Italy.
Hardrock Haven: One of the most interesting projects you're currently a part of was Mother Road together with Keith Slack, Chris Lyne, Zacky Tsoukas and Frank Binke. What do you think about the album Drive that saw the light of day this year?
Alessandro Del Vecchio: I'm very proud of the album. It took a lot of time… like all good things! Chris is the main force behind this band and I didn't write a note of it but still there's a lot of me on these songs. I consider myself a Hammond player and Chris contacted me because I could provide a real Hammond work for the album – no clones or digital plug-ins… I proudly own the real deal, Hammond and Leslie, the best combination for rock'n'roll!
Hardrock Haven: Keith and Chris now writing material for the sophomore album of Mother Road, do you plan to continue with the band?
Alessandro Del Vecchio: I would love to continue as I'm proud of what we have done. The press reaction has been pretty outstanding for a record that's pretty far from my usual camp.
Hardrock Haven: Mother Road is an international band that is largely based on technology. From the perspective of a contemporary musician, do you think the development of technology was more of a blessing or a curse for the music industry?
Alessandro Del Vecchio: It's a blessing and a curse. It gave the possibility to work easily in the distance and record sometimes even just from a hotel room without renting a big studio. On the other hand the quality sometimes is really bad and people think that you just need a PC and few cracked pieces of software to make the magic happen.
Hardrock Haven: The Hammond-laden Drive was more '70s-oriented than the majority of the albums you've participated in. Hence, a tough question – Hammond or '80s AOR keyboards? And why?
Alessandro Del Vecchio: Hammond for one hundred percent! Just a Hammond and a Fender Rhodes would do for me! If you want to hear something Hammond-driven by me, please check "Rebel On The Run" by Moonstone Project. It's great classic rock. Mother Road has more of a gospel kinda Hammond work which is where I really come from musically.
To continuing to read the interview click the link below: