Brandon Yeagley of Crobot
by Deb Rao
– Senior Columnist —
It has been an amazing year for rock band Crobot. The band made an appearance at Rock On The Range and is currently on tour with Chevelle. Crobot is also gearing up for a massive tour with Volbeat in 2015. You rally have to experience Crobot live to appreciate the band's hard edge over the top live show.
Crobot is currently on the road touring in support of Something Supernatural. Hardrock Haven recently spoke with singer Brandon Yeagley in regards to the current tour and album release.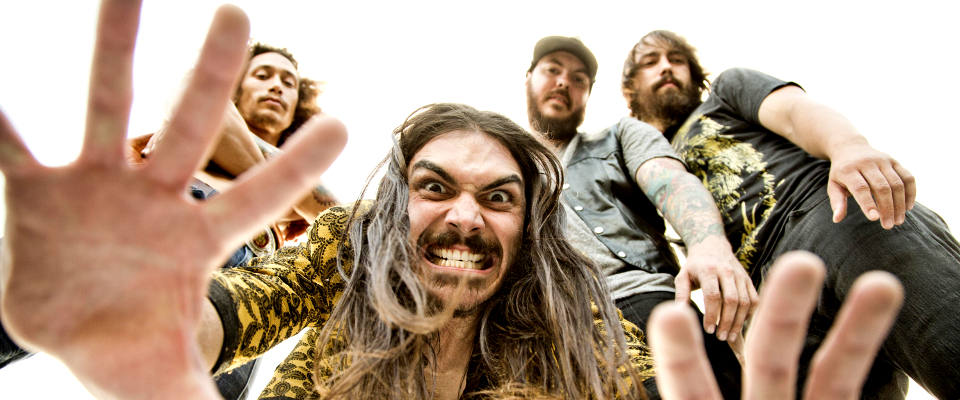 HRH: Brandon, let's begin by discussing Something Supernatural. Tell us about the writing process. I noticed you had a lot of heavy riffs and great lyrical content on the CD.
Brandon: Yes, we got together and jammed together. That is how most of the songs come together. It really came so naturally.
HRH: Now your single "No Where To Hide" hit the Top 20 at Active Radio. That must have been really exciting for you.
Brandon: Absolutely. When we formed the band and started the writing process we were really proud of ourselves. We are really thankful for the support of the fans.
HRH: What will the new single be?
Brandon: We have been fooling around with a few ideas. In January we have some time off we can pursue our new video and single. Right now it is a toss up.
HRH: How would you describe the sound of the band? I think Crobot sounds like Pantera meets Soundgarden.
Brandon: That is a great description. That is a new one. It is definitely about the hard heavy riffs. It is definitely heavy metal. I am a huge Soundgarden fan. I love anything Chris Cornell does.
HRH: What was it like working with producer Machine?
Brandon: When we worked with him it was at his Jersey location. That place was a great experience for us too. I am from Pennsylvania. He definitely got the Crobot vibe.
HRH: How is the music scene down in Pennsylvania? I think Candlelight Red is from there?
Brandon: Yes, Jeremy Edge is a friend of ours. Regarding the scene here you have to travel a little further. There are a lot of new bands coming out of the area. There is a pretty cool scene out of here if you venture out two hours.
HRH: You also got to play at Rock On The Range this year. How was that experience?
Brandon: It was great. The festivals are always cool. You get to see your favorite bands. You get to hang out a while. If you were to experience Crobot, I would have to say that you would have to see the live show. That is really our bread and butter.
HRH: You are currently out with Chevelle. Then Crobot will be hitting the road in 2015 with Volbeat. Tell us about this.
Brandon: Right now we are re-charging the batteries a bit. We are going out with Chevelle. Then in 2015 we are heading out with Volbeat and Anthrax.
HRH: Tell us about the set list? Are you doing a lot of new songs from the new album?
Brandon: Yes, we are pretty much playing everything from the new album depending on the time. We will have a 30-minute set to jam pack all of that.
HRH: You also will be performing on the high seas at the Ship Rocked Cruise.
Brandon: Yes, it will be great to leave the cold East Coast in February.
HRH: As a new band what do you hope to accomplish?
Brandon: As a new band we just want to be real about everything. We just get onstage and plug it in and go. There are no tracks behind what we are doing. We are just letting it all hang out. It is what we wake up for. We can't thank our fans enough for supporting the band.
HRH: Is there anything else you would like to say regarding Something Supernatural? How did you come up with the title?
Brandon: We took a piece of the lyrics from the song "Fly On The Wall." It sums up the whole story about how we came about. How we met everybody. It certainly sums up the experience.
HRH: We thank you for your time. Best of luck on the road!
Visit Crobot online: www.crobotband.com