by Deb Rao
– Senior Columnist —
December 6th, 2014 at Vamp'd in Las Vegas, NV. —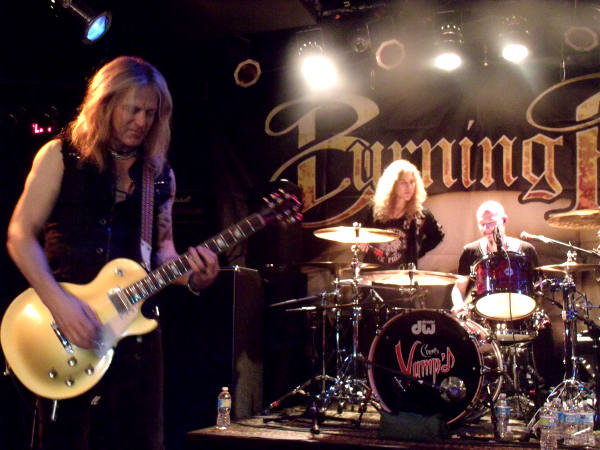 One band to look out for in 2015 is Burning Rain. The band is currently on a West Coast Tour and performed at Vamp'd on Dec. 6 in Las Vegas. Burning Rain is comprised of Doug Aldrich on guitar, Sean McNabb on bass, Matt Starr on drums, and Keith St. John on vocals.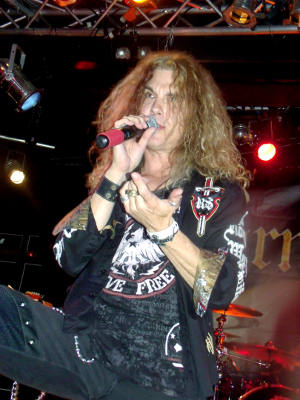 Burning Rain opened the set with Montrose song "Rock The Nation." The set list consisted of songs from the bands that the musicians previously were in plus Burning Rain songs. One of the highlights of the set was the song "Pray Out Loud" that was on the Epic Obsession album. It was so inspiring to see Doug Aldrich wail on his Gibson Les Paul. Doug is also in Raiding The Rock Vault. So it was very cool to see him perform in this up and close personal setting. Doug commented that the band hopes to perform at least once a month or every two months at Vamp'd. Let's hope this comes to fruition.
The caliber of the musicians was amazing. Singer Keith St. John vocal style reminds me a lot of Robert Plant. He has a great vocal range. You might remember Keith from Lynch Mob and Montrose. Drummer Matt Starr is also the touring drummer for Mr. Big. You can check out Matt at www.mattstarmusic.com.
The set sizzled with Whitesnake songs "Crying In The Rain" and "Judgment Day." The night provoked many impromptu jams. Burning Rain kind of had a '70s throwback vibe to their sound. The night was all about guitars and the blistering pyrotechnics of Doug Aldrich. The band jammed long into the morning. It was just another amazing night of music at Vamp'd. Be sure to check out Burning Rain on tour.
Visit the band online: www.facebook.com/burningrain