Jake E. Lee's Red Dragon Cartel
by Deb Rao
– Senior Columnist —
November 22th, 2014 at Vamp'd in Las Vegas, NV. —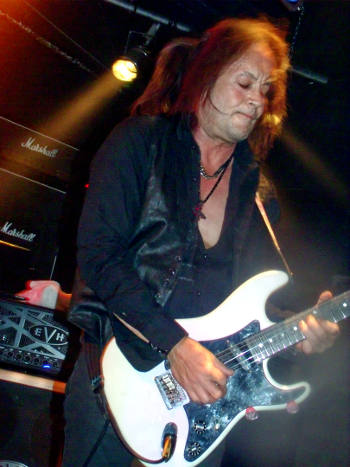 Red Dragon Cartel is back on the road and performed a special show at Vamp'd in Las Vegas. The night was a star-studded affair as many rockers came through the door to see Jake E. Lee perform after the Vegas Rock Awards.
Many people wondered if Jake E. Lee would ever perform again. Well he is back with a new band Red Dragon Cartel. Also included in the line-up was Bad Lands bassist Greg Chaisson. The set list consisted of many Badlands and Ozzy covers. Plus songs from the Red Dragon Cartel album.
The band hit the stage at midnight for an hour set of explosive rock riffs. Opening with "The Ultimate Sin" let the show begin. All eyes were on guitar virtuoso Jake E. Lee. In my opinion Jake is one of the Top 3 guitarists in the world. He has a bluesy rock style and is amazing to watch live.
Singer Darren Smith did a good job this time around. The band sounded very tight. Highlights of the set were the Badlands covers "High Wire," "In A Dream" and "Dreams In the Dark." Jake shredded the strings in pure metal fashion. He is so humble. That is what makes him an incredible guitarist. No glamor or glitz, just pure talent.
The band performed an Ozzy cover "Bark At The Moon' for the encore. It was so great to see Jake back in the spotlight, and at the top of his game. In attendance were Rikki Rockett and Brandon Gibbs from Devil City Angels. Be sure to check out Jake as he hits the East Coast with opening act Ethan Brosh December 2nd.
Band:
Jake E. Lee (g)
Greg Chaisson (b)
Darren Smith (v)
Jonas Fairly (d)
Set List:
The Ultimate Sin
Wasted
Healer
Shout It Out
Now You See it – Now You Don't
High Wire
War Machine
Deceived
In A Dream
Rumblin Train
Feeder
Dreams In The Dark
Bark At The Moon
Visit the band online: www.facebook.com/reddragoncartel