by Deb Rao
– Senior Columnist —
November 20th, 2014 at Vamp'd in Las Vegas, NV. —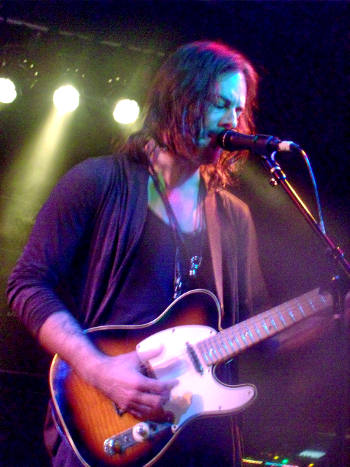 Guitar virtuoso Richie Kotzen returned to Las Vegas at Vamp'd on Nov. 20. Richie recently performed with The Winery Dogs at the same venue. For some reason, I seemed to enjoy Richie's show more. Although, The Winery Dogs were great, Richie had this bohemian classic rock sound down to a science.
Richie is currently touring in support of his latest release The Essential. The CD is a collection of songs from Richie's extensive career. He also performed two new songs off the album in concert. His performance was flawless. Richie captivated the audience with his unique guitar playing and outstanding melodic vocal style. He has a vocal style that reminds me a lot like Chris Cornell from Soundgarden. His music has classic rock flair reminiscent of Alice In Chains meets Soundgarden meets Crosby Stills and Nash.
In concert Richie Kotzen paints a sonic landscape that just draws you into his world. He opened with "War Paint" and also debut new song "Cannibals." This song is very modern. It kind of reminded me of Adam Levin and Maroon 5.
Highlights of the set included the popular, "Fear" and "Help Me." The song "You Can't Save Me" took me back to Crosby Stills, Nash and Young era. Richie Kotzen's guitar playing was exquisite. I noticed he doesn't play with a pick. Pretty impressive. My fingers would be bleeding. His vocals are so unique and pure. He phrases his words with so much passion. He ended the set with "Fooled Again."
It was great to see a performer that lets the lyrics do the talking. Combined with his excellent guitar work, the night was spellbinding.
The Stoney Curtis Band from Las Vegas opened the show. Curtis is a Blues veteran and is signed to Shrapnel Records. His style is reminiscent of B.B. King and Muddy Waters. He played the blues with much passion.
Be sure to check out Richie Kotzen in concert. His set was pretty impressive.
Special Thank you to Amanda from ABC -PR for making this review possible.
Set List – Richie Kotzen:
War Paint
Love Is Blind
Bad Situation
Cannibals
Walk With Me
Fear
Doin' What The Devil Says To Do
Peace Sign
Help Me
What Is
You Can't Save Me
Fooled Again
Visit Kotzen online: www.facebook.com/richiekotzenmusic