by Justin Gaines
– Senior Columnist/News Editor —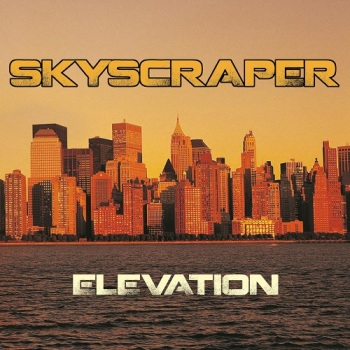 2014 seems to have been a banner year for new projects and collaborations by veteran melodic rock artists. Here's one of the better ones that didn't get much notice (but probably should have). Skyscraper features vocalist Lee Small (Shy, Surveillance), guitarist Tor Talle (Joe Lynn Turner, Overland) and bassist Dave Boyce (Airrace). Their debut album, titled Elevation, was produced by Martin Kronlund.
Skyscraper's approach to melodic rock draws heavily on the ultra-polished, soulful and powerful sound of classic artists like Toto, Survivor, Brian Howe and John Waite. Elevation is a super-smooth, laid-back AOR offering, full of rich guitar tones, melodies that draw you in without going over the top, and an extraordinary and powerful vocal performance by Lee Small, who remains one of the melodic rock scene's most overlooked talents.
This kind of melodic rock is tough to get just right. If you get too rocking you lose that laid-back vibe, and if you get too soft you lose the rock altogether and drift into adult contemporary territory. Skyscraper definitely leans towards the smooth and relaxed side of AOR, but they do it so very well. There's just enough rock backbone and at just the right moments on Elevation to keep you nodding along, and the vocals are simply impossible to resist.
"Sail Away," "Across the Barricades" and "The Sky is Turning Blue" are some of the standout tracks here, but as a whole Elevation is very satisfying. To get a picture of the range this album has, listen to the rocking "Sweet Little Sister" and the acoustic "Runaway Hearts" back-to-back.
Elevation is one of the better "lighter side" melodic rock albums that 2014 had to offer. If you're a fan of any of the players involved, or are into artists like Toto, Work of Art, Lionville, Overland, John Waite, Jimi Jamison and Fergie Frederiksen, you'll definitely want to check out Skyscraper.
Genre: Melodic Rock, AOR
Band:
Lee Small (v)
Tor Talle (g)
Dave Boyce (b)
Track Listing:
1. Sail Away
2. Monday Morning
3. Fay Wray
4. Across the Barricades
5. Everybody Cries Sometimes
6. Walk Through Fire
7. Runaway Hearts
8. Skyscrapers
9. Through the Eyes of Liberty
10. The Sky is Turning Blue
11. Sweet Little Sister
12. Where Love is Waiting
13. Runaway Hearts (acoustic)
Label: Cargo
Website: https://www.facebook.com/pages/Skyscraper/202409649798673?ref=profile&pnref=lhc
Hardrock Haven rating: 8/10