by Alexandra Mrozowska
– Senior Columnist —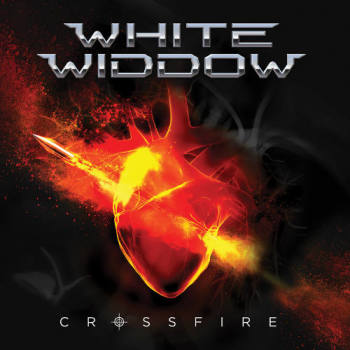 After three years of struggle with happenings way beyond their control, White Widdow regrouped and rejuvenated so as to strike back again. Good news is that the Aussie rockers come back this year with what turns out to be their third album – Crossfire, released in late November via AOR Heaven. But what is really the splendid news is that the band previously compared to the likes of Night Ranger, White Sister, Giuffria or Blue Tears were not too keen to abandon their pomp rock roots in favor of sound-related experiments and the re-invention of the proverbial wheel. What they delivered instead is a tasteful mixture of infectious '80s hooks and melodic riffs that is no weaker than their previous outputs.
Opened with a powerful group chant – still one of the most eagerly utilized clichés in AOR/melodic rock – "Caught In The Crossfire" is all bombastic keyboards and powerful vocal harmonies that prove Crossfire picks up right where their previous album, 2011 release Serenade left off. There's hardly an '80s-tinted soul among us who can resist the hooky melody that drives "Fly Me Away" or the keyboard-driven groove of "Below The Belt", the latter embroidered with a blistering guitar solo. It's also the rich lead guitar work drenched in tinkly sound of keys that's the driving force of "Dreams Don't Die," another fine track enriched with an outstanding chorus that has almost anthemic vibe to it.
If recorded 25 years prior to what is now on the clock, "Too Many Tears" could have become an instant AOR classic with its "wall of sound" vocals and catchy chorus, followed by slightly feistier "Angel." In the latter, it's again the sound of the six strings that comes to the foreground in its '80s-infused flashy manner. A balm for angst-driven youth rebellion and a love story in one, the guitar-and-keyboard-laden track "Born To Be A Rebel" leaves the legions of contemporary melodic rock bands behind together with slick polished hook of "Never Again."
It doesn't mean Crossfire is just "all killers, no fillers." The album was hailed to have more hard rock-ish quality to it, especially in comparison with its predecessors, but the ordinary and somewhat bland AOR-ish piece "Just Another Night" can be a bit disappointing, while "Carry The Heartache" is slightly too poppy for rock-oriented listeners. Still, that's not much of a drawback as the rest of the material constitutes a compensation that is not to be rejected by any melodic rock aficionado.
White Widdow's third effort isn't much of a surprise music-wise, as it doesn't fall really far from their previous endeavors – a self-titled debut released in 2010 and 2011's Serenade. Throughout more or less the four years, the Aussie five-piece have managed to transform themselves from an overnight sensation into an established brand you know what to expect from. And with Crossfire, they've certainly met a challenge, treating their listeners with what is yet another outstanding melodic rock album of 2014.
Genre: Melodic Hard Rock
Band:
Jules Millis – lead vocals
Xavier Millis – keyboards/vocals
Enzo Almanzi – guitar
Ben Webster – bass
Noel Tenny – drums
Track List:
1. Caught In The Crossfire
2. Fly Me Away
3. Just Another Night
4. Below The Belt
5. Dreams Don't Die
6. Too Many Tears
7. Angel
8. Born To Be A Rebel
9. Carry The Heartache
10. Never Again
Label: AOR Heaven
Website: www.whitewiddow.com.au – www.facebook.com/whitewiddowaor
Hardrock Haven rating: 8/10