Age Sten Nilsen's Ammunition | Shanghaied
by Alexandra Mrozowska
– Senior Columnist —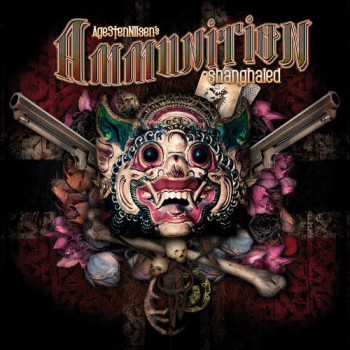 If you were a young glam metal fan living in Europe in mid 2000s and not quite satisfied only with watching faded music videos from the '80s, sometime between 2005 and 2007 there were two groups that really counted for you. On the more rebellious side of things, there was Cräshdiet, an early, Dave Lepard-fronted incarnation of the Swedish band. More 'mainstream,' but still 'cool' were the representatives of the neighboring country Norway named Wig Wam. Fast forward to 2014 – that's when the latter group disbands after releasing four studio albums, Wig Wam members embarking on solo careers. 'Teeny,' the guitarist Trond Holter, thus shifted to conceptual collaborations with Jorn Lande himself. Also 'Glam' – Wig Wam's frontman Age Sten Nilsen – joined forces with the cream of hard rock, from W.E.T and Eclipse's Erik Mårtensson to the likes of Hal Patino (King Diamond, Pretty Maids, Nordic Beast) or Robban Bäc (Sabaton, Eclipse). Together, they formed Ammunition – or Age Sten Nilsen's Ammunition, as it's sometimes dubbed – and the result of their collaborative work is an album titled Shanghaied, released via AOR Heaven in late January 2015.
"Silverblack", the opening track of the Shanghaied album, clearly testifies Ammunition is simply another logical step on the musical path Age Sten Nilsen treads. It doesn't fall far from what was the trademark sound of Wig Wam, yet is stripped of the glam rock-tinted panache so characteristic to the collective efforts of the Norwegian group. It's a bit rougher than Wig Wam, especially their early albums, and slightly updated but still laden with fine melodies. Ammunition draws as much from Nilsen's mother group as from his 2009 solo effort GLAMunition, and the results are – so to speak – interesting.
Opened with a powerful group chant, the aforementioned "Silverblack" is thus Wig Wam-ish to the utmost, a modern-sounding melodic rock piece that juxtaposes relatively heavy guitars with almost poppy, infectious hooks. "Give Me A Sign" continues in a similar manner, a contemporary wall-of-sound rock sound complemented with a fine melody and massive backgrounds. "Shanghaied" has some tongue-in-cheek flavors to it especially lyric-wise, which somewhat corresponds with the style utilized by Nilsen while performing under the moniker of Glam. Next is "Tie Me Down" that develops into yet another kicker – especially its galloping guitar-laden finale fueled even more with surprisingly rough vocals. There is some rootsy, bluesy festiveness to both tracks, different from the usually polished sound typical to the genre.
The unwritten rule of melodic hard rock is to have at least one power ballad per album, and Wig Wam as well as Nilsen's solo effort GLAMunition were no exception to it. Here Nilsen's Ammuniton invades the ballad-esque territory with "The Road To Babylon," embroidered with soaring vocals and wistful melody. Next is the hard rock stampede with a certain live vibe as well as tints of blues and country to it – "Take Out The Enemies" that is full of raw, untrammeled energy. "Hit Me (With Your Bombs)" is a modern rocker with rich lead guitar work and well-crafted choruses, followed by "Do You Like It", a groovy track that shifts a listener's focus to the rich, pounding sounds of the rhythm section. "Wild Card" is way more about hook and melody that the heaviness of sound, showing perhaps a softer side to the band, while "Another Piece Of Me" is again on feistier side of things. "Heart's Not In It" is another ballad sandwiched between the guitar-laden rockers, a charming, slow piece full of panache and melodic vocals, with its follow-up "Strung Out" making a catchy, straight-in-your-face final to the entire material.
It has to be admitted one hardly resists from finding parallels between Nilsen's earlier work (in Wig Wam and beyond) and Ammunition. Yet, comparing Shanghaied to Wig Wamania or GLAMunition is perhaps a bit unfair as there's a whole new quality that comes with the current album of the Norwegian singer's new outfit. It's taking what's best from Wig Wam and solo output and taking it to a whole new level – with more straightforward, less polished sound and more diverse musical flavors and tints. And, essentially, a collection of twelve well-written and well-performed songs that show many different dimensions of melodic hard rock. It doesn't take to be a Wig Wam fan to find the album a worthy addition to your record collection – if you're into rich guitar work, hooks and melody, you'll find something for yourself on it anyway. Much recommended.
Genre: Melodic Hard Rock
Band:
Age Sten Nilsen – vocals
Hal Patino – bass
Robban Bäck – drums
Erik Mårtensson – guitars
Lasse Finbråthen – keyboards
Jon Pettersen – guitars
Track List:
1. Silverblack
2. Give Me A Sign
3. Shanghaied
4. Tie Me Down
5. Road To Babylon
6. Take Out The Enemies
7. Hit Me (With Your Bombs)
8. Do You Like It
9. Wild Card
10. Another Piece Of Me
11. Heart's Not In It
12. Strung Out
Label: AOR Heaven
Website: https://www.facebook.com/pages/Ammunition/1404489566506923 – http://www.agestennilsen.com/
Hardrock Haven rating: 8.5/10