by Justin Gaines
– Senior Columnist/News Editor —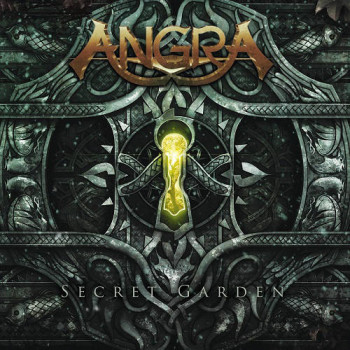 It's been five years since we last saw a new studio album from Brazilian progressive/power metal legends Angra. During that time, the band celebrated the 20th anniversary of their classic debut album Angels Cry with a live CD and DVD release. They also saw yet another significant lineup change. Drummer Ricardo Confessori, who rejoined the band for 2010's Aqua, departed, with Bruno Valverdi taking his place. That would have been change enough, but Angra also parted ways with vocalist Edu Falaschi, who was a huge part of the band's sound over the previous decade. His replacement is none other than Fabio Lione (of Rhapsody of Fire fame).
If you're scratching your head at the idea of a singer with Lione's distinctive voice fitting Angra's overall style, you're not alone, but if you' watch any of the live clips (or better yet the Angels Cry: 20th Anniversary Tour Blu-ray) you'll see just how well Lione can adapt to both the Edu-era material as well as the earlier Andre Matos songs. This really is like hearing a whole new Fabio Lione.
As to the music on Secret Garden, the eighth Angra studio album, it's both instantly recognizable as an Angra album yet doesn't simply fall in line with previous releases. To their great credit, Angra never does the same album twice, so they didn't simply try to write another Angels Cry or Temple of Shadows here. There are similarities to Aqua (which is a much better album than it gets credit for) in that Secret Garden is very progressive and benefits from repeat spins, but there's also a good melodic aspect to these songs. You get hooked in by the melodies, and then the complexity of the musicianship sinks in. You're definitely going to be reminded more of Edu-era Angra than the early years, thanks in large part to Lione, who on a lot of these songs is such a dead-ringer for Edu that it's almost scary.
Secret Garden is a very consistent album, and one that maintains a cohesive atmosphere throughout, even if it is not a concept album. That said, it does have some songs that stand out from the rest. Leadoff single "Newborn Me" is a fierce metallic number, and gives you a good idea what to expect from the larger album. The title track (which features guest vocals from Epica's Simone Simons) is a symphonic departure, and "Crushing Room" (which features an app by Doro Pesch) is another highlight. "Upper Levels" is one of the more progressive songs on the album, and one where you can really hear Valverdi taking on the traditional Brazilian percussion that is so vital to Angra's sound. Perhaps the most interesting moment on Secret Garden is the closing ballad "Silent Call," which is just a beautiful song with a moving vocal performance. At first it may seem like an odd choice to end the album with, but it's such a memorable song.
There will no doubt be naysayers who either can't accept Lione's presence in the band or still want a return to the Angels Cry and Holy Land sound, but in the end Secret Garden is going to win over most Angra fans. It's another very strong album from a band that really doesn't have any weak releases, and a very promising start for the new Angra era.
Genre: Progressive Metal, Power Metal
Band:
Rafael Bittencourt (g) (v)
Kiko Loureiro (g) (k)
Felipe Andreoli (b) (k)
Bruno Valverde (d)
Fabio Lione (v)
Track Listing:
1. Newborn Me
2. Black Hearted Soul
3. Final Light
4. Storm of Emotions
5. Violet Sky
6. Secret Garden
7. Upper Levels
8. Crushing Room
9. Perfect Symmetry
10. Silent Call
Label: Universal, JVC Japan, Edel
Website: www.angra.net
Hardrock Haven rating: 8.5/10