by Justin Gaines
– Senior Columnist —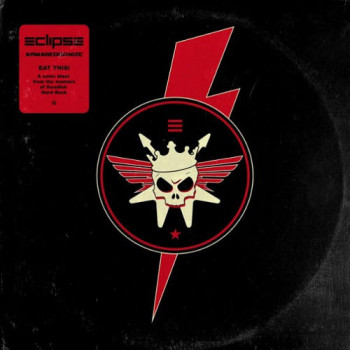 Is there a hotter name in melodic rock these days than Erik Martensson? Between peforming in W.E.T. and writing and producing for names like Toby Hitchcock, Jimi Jamison and Adrenaline Rush, he has made a big impact on the melodic rock scene in the last few years. And then there's Eclipse, the band he fronts alongside guitarist and songwriting partner Magnus Henriksson. Their 2012 album Bleed and Scream is arguably the decade's best melodic rock album. Now they're back with their eagerly-anticipated follow-up, titled Armageddonize.
If for some reason you're a fan of Swedish melodic rock and haven't heard this band (and if so, what's wrong with you?), Eclipse hits the sweet spot between AOR and hard rock, with a definite nod to the '80s arena rocking heyday. They have all of the melody and electricity of bands like H.E.A.T. and Reckless Love, but with a harder rocking crunch. Henriksson and Martensson's guitar work is right out front, so there's never any question whether Eclipse is closer to pop than rock. Beyond his considerable guitar playing, songwriting and producing skills, Martensson is a hell of a singer as well, and he gives a dynamite performance here. The backing vocals are fantastic too, and add even more power to the already catchy choruses on Armageddonize.
As to the album itself, Armegeddonize is very much in the same style as Bleed and Scream. It opens with a monster of a hard rock song called "I Don't Wanna Say I'm Sorry," which immediately grabs you by the throat. "The Storm" is probably the catchiest song on the album, and the first one that you'll find yourself humming the melody later. Not that there's a non-catchy song to be found here. Armageddonize is one hard-hitting, extremely melodic song after another. "Wide Open" and "Caught Up in the Rush" are classic Eclipse (and could have made great W.E.T. songs as well), and "Breakdown" sounds like a lost Tangier or Junkyard track. Even the ballad "Live Like I'm Dying" is powerful.
So here's the big question: Is Armageddonize better than Bleed and Scream? Time and repeated spins will tell, and rest assured you WILL be playing this one many times in the months ahead. Eclipse definitely didn't take a step backwards here. Armageddonize is an extremely strong melodic rock album, and is an early favorite for the best melodic rock album of 2015. It's almost unfair to ask other bands to follow this one. Once again Eclipse has demonstrated why they belong alongside H.E.A.T., Brother Firetribe and W.E.T. as the elite names in modern melodic rock.
Genre: Melodic Rock
Band
Erik Martensson (v) (g)
Magnus Henriksson (g)
Robban Back (d)
Johan Berlin (k)
Track Listing:
1. I Don't Wanna Say I'm Sorry
2. Stand on Your Feet
3. The Storm
4. Blood Enemies
5. Wide Open
6. Live Like I'm Dying
7. Breakdown
8. Love Bites
9. Caught Up in the Rush
10. One Life – My Life
11. All Died Young
Label: Frontiers Records
Website: www.facebook.com/eclipsesweden
Hardrock Haven rating: 9/10