by Justin Gaines
– Senior Columnist/News Editor —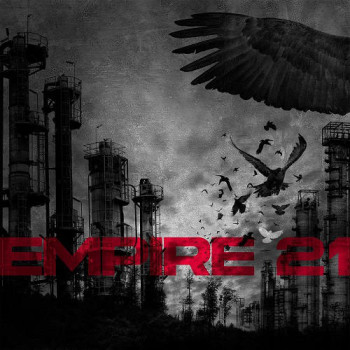 Now here's an album that slipped under the radar in the closing days of 2014. Swedish band Empire 21 is a supergroup of sorts. The players involved aren't exactly superstars, but between them they have quite an impressive resume in the melodic, power and progressive metal genres. Empire 21 features guitarist C.J. Grimmark (ex-Narnia, Rob Rock, Fullforce), drummer Tobias Enbert (Darkwater, Harmony), keyboardist John Svensson (Harmony), bassist Andreas Alov and newcomer Ricard Hulteke on vocals.
Empire 21's self-titled debut is, in a word, amazing. If you're familiar with the players involved, you might go into it with an idea it's going to be a typical prog/power offering. Instead the band delivers a near-perfect melodic hard rock/metal album that's going to make fans of Masterplan, Pretty Maids and Thunderstone very happy. Think Masterplan back on their debut, when they hit the absolute perfect balance between crunching hard rock and power metal melodies. Empire 21 is that good. The musicianship is super-tight, the production (mixed by Tobias Lindell and mastered by Plec Johansson) is first rate, and the dynamic songwriting is what puts the whole thing over the top. You're going to want to listen to these songs … a lot.
Oh right, the vocals. Let's just say Ricard Hulteke won't be an unknown for very long. The guy has a massive voice that's full of power and soul. He sounds like the love child of Rick Altzi and Tommy Karevik, capable of soaring power and a smooth mid-range. On any other album his performance would steal the show. Here it's one of multiple elements all coming together perfectly for an unforgettable debut.
There are eleven songs on the Empire 21 debut, and they're all terrific. If you want to see for yourself if they're worth the hype, "Empire 21" and "I Can't" ought to be more than enough to convince you.
And in case it matters to you, the lyrics to these songs don't appear to be overtly Christian. Given the players involved, there might be a Christian subtext here, but if so it's a subtle one.
Had this album arrived a bit earlier in the year, it probably would have made a lot of Top Ten of 2014 lists. It's just an amazing Melodic Metal album all-around, and an absolute must have for fans of Masterplan, Damnation Angels, Jorn, Pretty Maids, Level 10, Thunderstone and Allen-Lande. This is about as good as melodic metal gets!
Genre: Melodic Metal, Heavy Metal
Band:
C.J. Grimmark (g)
Ricard Hulteke (v)
Tobias Enbert (d)
Andreas Alov (b)
John Svensson (k)
Track Listing:
1. When You're Falling
2. I Can't
3. All Is Lost
4. Traveler
5. Empire 21
6. 100 Nights
7. Heard It All
8. This is My Story
9. Calling
10. Would You
11. No Matter What the Winds of Change
Label: self-released
Website: www.empire21.se
Hardrock Haven rating: 9.5/10