Jorne Lande & Trond Holter | Dracula: Swing of Death
by Justin Gaines
– Senior Columnist/News Editor —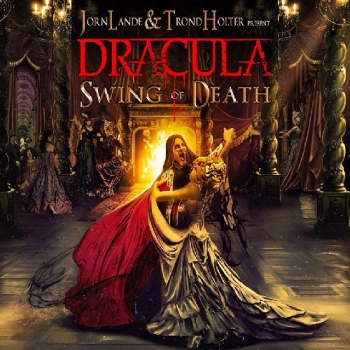 Now here's an album that caused many a melodic rock fan to do a double-take. It's not that a collaboration between super-vocalist Jorn Lande and Wig Wam guitarist Trond Holter is unusual, but did anyone really expect that collaboration to be a rock opera/concept album based on the legend of Dracula? Dracula: Swing of Death features Jorn Lande as Dracula and another Norwegian singer – Lena Borreson – as Mina, and expands on the story from Bram Stoker's Dracula.
While it is a bit hard to wrap your head around the idea a Dracula Melodic Rock opera (especially if you remember Jason Segal's Dracula puppet opera from the movie Forgetting Sarah Marshall), Jorn's presence alone means you can't ignore it. Holter's approach here was to make this as close to a rock opera as possible while still having songs that could stand on their own. This is a good thing, as the overall story doesn't quite resonate, and the more theatrical moments – the title track and "Masquerade Ball" for example – seem kind of silly.
Setting aside the rock opera side of things, there are a few songs on Dracula: Swing of Death that are better than anything Jorn has done on his last few solo albums. "Walking on Water" is just an amazing melodic metal song, and "River of Tears" and "Into the Dark," both of which feature Jorn and Lena on vocals, are powerful enough to make you wish for a less-conceptual Lande/Holter team-up in the future. And oddly enough, the instrumental "True Love Through Blood" may be the catchiest, most memorable moment on the entire album.
As a whole, Dracula: Swing of Death just doesn't seem to come together and is hard to take seriously, despite the first-rate musicianship and fantastic vocal performances. It shows flashes of greatness though, and those moments should be enough to make this a worthwhile listen for most Jorn Lande fans and fans of Trond Holter's work in Wig Wam.
Genre: Melodic Metal, Melodic Hard Rock
Band:
Jorn Lande (v)
Trond Holter (g)
Bernt Jansen (b)
Per Morten Bergseth (d)
Lena Floitmoen Borresen (v)
Track Listing:
1. Hands of Your God
2. Walking on Water
3. Swing of Death
4. Masquerade Ball
5. Save Me
6. River of Tears
7. Queen of the Dead
8. Into the Dark
9. True Love Through Blood
10. Under the Gun
Label: Frontiers Records
Website: www.facebook.com/trondholterofficial
Hardrock Haven rating: 6.5/10