by Deb Rao
– Senior Columnist —
January 17th, 2015 at Eastside Cannery in Las Vegas, NV. —
Baltimore's pride and joy rock band KIX took over Las Vegas this past weekend. The band is on tour in support of their latest release Rock Your Face Off. It is Kix first release in 20 years. The CD rekindles the entire catchy blues metal persona that helped launch the band back in the heyday of metal.
KIX took over ZIA Records for an in-store signing on Friday Jan. 16. The band graciously posed for pictures and signed autographs. This was the prelude of what was going to be a great weekend for Metal.
KIX took the stage at the Eastside Cannery on Jan. 17 for a performance that was explosive. Kix are a high-energy band known for their hard driving blues sound. The band took a page out of their past and combined it with their bright future performing two songs from Rock Your Face Off. The new material rallied the Kix signature in your face blues metal sound. The band performed the first single "Love Me With Your Top Down" and latest single "Wheels in Motion," the new songs were great.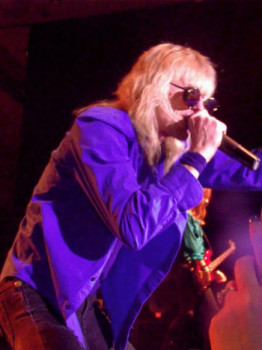 Kix also performed many hits including the ballad "Don't Close Your Eyes." This song has so much power and emotion. Singer Steve Whiteman sang his heart out. The band is also comprised of guitarist Ronnie Younkins, guitarist Brian "Damage" Forsythe, drummer Jimmy Chalfant, and bassist Mark Schenker. From the get-go KIX were relentless. "Cold Shower" still sounded amazing after all these years. It had been a few years since I had seen the band at M3 and they gave it their all. It doesn't matter whether the band is playing arenas or theaters. The energy and sweat just poured off the fans and band.
Kix remind me of AC/DC. Hard driving riffs define the band surrounded by the bluesy vocals of Steve Whiteman. It was so exhilarating to see the band perform new material and take a page from the past while listening to all the hits. The band embraced the opportunity to rock hard in Las Vegas. In the end, it is not always about the glitz and glamour is about the music. The band wasn't afraid to get down and play some hard driving bluesy metal. Fans could not get enough, as Kix launched into "Blow My Fuse."
Be sure to check out Kix on tour and Hardrock Haven's exclusive interview with Mark Schenker.
Visit KIX online: https://www.facebook.com/OfficialKIX