by Joe Mis
– Senior Columnist —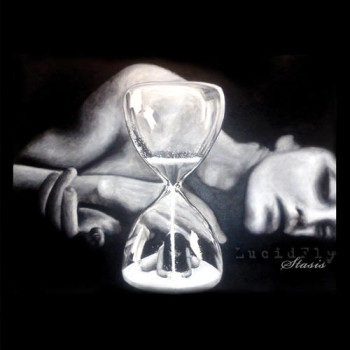 L.A.-based rockers Lucid Fly have just released Stasis, a three track EP that follows in the footsteps of their last EP, The Escape Stage – and hopefully a prelude to a full length album.
Lucid Fly has been together since 2001, when vocalist Nikki Layne and guitarist Doug Mecca joined forces down in sunny Florida. The talented duo released their debut EP Adapting To Gravity in 2005, and then relocated to L.A. and dropped their follow up EP The Escape Stage in 2009 to solid reviews. Now joined by former Macy Gray drummer Aaron Ficca, the band has released Stasis – a collection of three singles.
Despite not having release a full length CD yet, Lucid Fly's work on their now 3 EP catalog shows them to be a polished and experienced band. Their music is tight, well-written and well-delivered, and the production values of the EP are high – although the mix on Stasis is slightly inconsistent as these tracks were recorded by different engineers.
"Waiting," mixed by Forrester Savell (Karnivool, Dead Letter Circus), displays the musical growth of the band since their last release. Not that they were ever a sound-alike act, a lot of their older music was heavily Gothic in style drawing the inevitable comparison to Evanescence, but their new material is lighter in tone and more fluid. This track has a nice groove to it built around rhythm and flow, and a strong vocal delivery. Nikki Layne has a fine voice and a crisp and clean delivery. She shows great emotional range and control as she adjusts her delivery and power to suit the song.
"What Winter Was Like" and "In This Ocean" (October 7th) have more of a metal edge. These tracks were mixed / mastered by Adam Barber (Boyce Avenue, Sevendust, Alter Bridge). The former features some of Doug Mecca's excellent rhythm guitar work, and as has been the case with their prior releases he keeps his solos brief, sharp, and to the point. There are a number of well-executed tempo changes and softer passages in this track. "InThis Ocean" has a murkier sound to it, but rolls in more progressive elements. Aaron Ficca's drumwork here is very strong – energetic and driving without being over-the-top.
Lucid Fly's Stasis is a strong EP, highlighting the band's evolving style and showcasing their talent. The band's songwriting has always been a strength, and that has not changed at all. Powerful lyrics and images are nicely wrapped up in well crafted song structures and delivered with veteran preision. Not as Gothic as the band's prior release, Stasis should have even broader appeal and paints a bright picture for future releases. Fans of Gothic, alternative, progressive, or female-fronted rock will without a doubt enjoy Stasis.
According to the band's web site: "In addition to the 3 new singles, the band has been in pre-production, and we have finished tracking the drums for 14 new songs!!! Currently, we are working with producers in Colorado on the guitars and vocals and are aiming to have the new album completed by late Spring 2015!" Good news indeed! Lucid Fly's Stasis is highly recommended!
Genre: Alternative, Gothic Rock
Band:
Nikki Layne (vocals)
Doug Mecca (guitar)
Aaron Ficca (drums)
Track Listing:
1. Waiting
2. What Winter Was Like
3. In This Ocean
Label: Independent
Website: http://lucidfly.com/
Hardrock Haven rating: 8/10