by Alexandra Mrozowska
– Senior Columnist —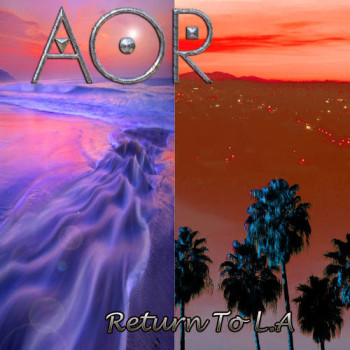 In the current decade, there hardly has been a year without an album released by Frédéric Slama's AOR. In 2012, fans of the star-studded project under this moniker were treated with two recorded albums seeing the light of day. However, 2015 proves to be just as successful with its follow-up to 2014's L.A. Connection, which is due out in March. Entitled Return To L.A., it's the 14th release in AOR's overall catalog (spanning from 2000's L.A. Concession). And, as always, it utilizes, both, the all-star band formula and the Melodic Rock genre to the utmost. Apart from Slama and Tommy Denander, the Melodic Rock notabilities engaged in the process of making the album were the likes of Jesse Damon (Silent Rage), Tommy Funderburk (King Of Hearts, Airplay), Erika (Yngwie Malmsteen) or Sarah & Mélissa Fontaine (Chasing Violets). Also, the artists who already have contributed to the project in the past make the eponymous return on the new album, from Paul Sabu (Only Child, Kidd Glove) to Rick Riso and Bob Harris (Axe, Steve Vai). Sabu, Slama and Denander also were involved in the production process.
Similarly to his past endeavors and with this album, Slama spares no effort to turn back the hands of time, bringing whatever was the best in mid-'80s Melodic Hard Rock. And, as usual, he does so with a little help from his friends – one of many on board being Sabu, who re-appears three times throughout the entire album, starting with the first track, "Victim Of My Own Desire." The song is a classy AOR piece, much in vein of early '90s material released by the likes of Mark/Marcie Free or James Christian on their respective solo albums – with Sabu's raspy, breathy voice giving a feistier edge to it. It's the very same voice that drives the sixth track "Sign Of Fire," embroidered with huge '80s-tinted keyboards, which also closes the album on a very high note with the melodic mid-tempo track, "The Wisdom Of Eve."
The next to be called to the blackboard is a singer whose participation on the album was causing quite a stir in Melodic Rock circles. The discography of the American hard rockers Silent Rage might not have been particularly rich, but its late-'80s albums Shattered Hearts and, especially, Don't Touch Me There are considered cult classics among its fan-base. It's no wonder many looked forward to Damon's participation on AOR's Return To L.A. On this release, the voice of Silent Rage is featured in two of the 10 song. His vocal performance in "Angels Never Sleep" and "The Breaking Point" might not have been as feisty as his juvenescent Hard Rock anthems, such as "Rebel With A Cause" or "Don't Touch Me There," but nevertheless is a quality one. And, with the fantastic vocal harmonies of the former of the two as well as the guitar-laden melody of the latter, both tracks can be distinguished as the highlights of the entire album anyway.
However, apart from very convincing performances from Sabu and Damon, there's more to AOR's new album. "Trail To Your Heart" is a slice of keyboard-driven Pomp Rock, featuring Tommy Funderburk on vocals, embroidered with particularly infectious chorus against the charming background melody. Rick Riso is easy to recognize in "Dangerous To Know," a dynamic, Foreigner-esque mid-tempo song. Graced with dreamy, delicate vocals of the Swedish singer Erika Norberg, the fifth song "Burning Rainbows" gravitates toward more ballad-esque territory, as does "Love Remains The Same," with vocals shared between the French sister duo Sarah and Mélissa Fontaine. However, while the former may seem a bit too popish for a Rock listener's taste, the latter stands out because of the tremendous vocal harmonies between the two singers. And last to mention, but certainly not the least among the guest singers, is Bob Harris, who offers his characteristic, soaring vocals to be heard in keyboard-laden "99 Percent Chance Of Loving You."
Would it have been a truism to say that with Return To L.A., Slama returns in fine form? Perhaps, yes, but let's stick to this clichéd wordplay anyway and admit there's hardly a possibility for a Melodic Rock fan to be disappointed by AOR's 14th album. Having avoided the dreaded repetitiveness by bringing some new faces to the table, the list of guest singers is impressive, and, as usual, Slama bravely continues his journey through the sounds of tinkling keyboards, '80s-infused guitar shredding and catchy choruses. Let's only hope that there are many stops along the way as he travels, each of them as good as this.
Genre: Melodic Rock, AOR
Band:
Frédéric Slama: Guitars & keyboards
Tommy Denander: All instruments
Paul Sabu: Lead and backing vocals (track 1, 6, 10)
Tommy Funderburk: Lead & backing vocals (track 2)
Jesse Damon: Lead & backing vocals (track 4, 7)
Rick Riso: Lead & backing vocals (track 3)
Bob Harris: Lead & backing vocals (track 8)
Erika Norberg: Lead & backing vocals (track 5)
Sarah Fontaine: Lead & backing vocals (track 9)
Mélissa Fontaine: Lead & backing vocals (track 9)
Colin Rodgers: Guitars, bass
Pat Thern: Drums
Track List:
1. Victim Of My Own Desire
2. The Trail To Your Heart
3. Dangerous To Know
4. Angels Never Sleep
5. Burning Rainbows
6. The Sign Of Fire
7. The Breaking Point
8. 99 Percent Chance Of Loving You
9. Love Remains The Same
10. The Wisdom Of Eve
Website: http://www.slama101.fr/
Hardrock Haven rating: 9/10