Dauzat St. Marie | Falling Again
by Joe Mis
– Senior Columnist —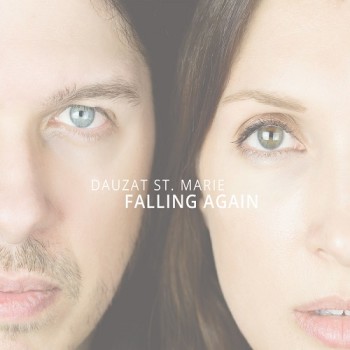 Falling Again is the debut EP from Dauzat St.Marie, an L.A.-based duo formed by Mat Dauzat and Heather St. Marie. While only 5 tracks long, Falling Again is a mostly acoustic rock journey built around the voices and duet harmonies of Heather and Mat, and is a shining example of solid songwriting and the power of simple, basic music.
Avoiding fancy and cliched audio tricks and heavy instrumentation, Dauzat St. Marie's sound is refreshingly simple and pure. Predominantly vocals and acoustic guitars (with the occasional synth, bass, and drums for good measure), DSM's music is stripped down to almost "coffee-house" level – but this simplicity allows the brilliance of their vocals to truly shine. Long time bandmates hailing from another LA (Louisiana!), Dauzat and St. Marie play off each other as true veterans. After relocating to California's L.A., Mat and Heather became the backbone of the rock band Hydrovibe, and Mat for a while was the guitarist for Kelly Osbourne's band. They eventually circled back to their original duo status and headed to the studio to record Falling Again.
"Falling Again" opens the EP and sets the tone for the balance of the release. Well done keyboards back up a superb lead vocal line. Heather's voice is thick and sultry, and she sings this bittersweet ballad with passion. The interplay with Dauzat's keys and backing vocals create an amazingly thick melody that rolls along nicely. "Time Slips Away" is a wonderfully delivered acoustic reminiscence of career, travel and life – one that highlights the duo's strong songwriting ability along with Mat's superb backing vocals. "Watch Me Go" adds in bass and drums, making it a more traditional tune. It has a bit of an alternative rock vibe before making a somewhat odd transition to a pop chorus, and gives Heather a chance to drop down into a gritty mode of delivery. Dauzat's musicianship here is very solid.
"Sinking Down" is a dark and moody track, highlighted by Dauzat's superb guitar line and St. Marie's controlled delivery. The chorus is superb, with powerful vocal contributions from both performers. Bass and synths are used well and further the mood. This one may be Heather's best vocal piece on the EP – she sings with grit, passion, and fire. The final track, an acoustic version of "Falling Again" is music broken down into it purest elements – a superb voice and excellent guitars delivering a simple and haunting melody. An amazing piece…
Dauzat St. Marie's Falling Again will appeal to anyone who enjoys who enjoys acoustic rock and strong singing. Heather St. Marie's vocals come from the heart, and her passionate delivery needs to be heard to be believed. Mat Dauzat is a perfect counterpart, as his musicianship is as powerful as Heather's vocals. What really makes them click is the fact that they do play as a true duo – no one tries to dominate the other, and their teamwork is the key to their music, both as performers and songwriters.
Highly recommended!
Genre: Rock
Band:
Heather St. Marie (vocals)
Mat Dauzat (guitars, vocals, keyboards)
Track Listing:
1. Falling Again
2. Time Slips Away
3. Watch Me Go
4. Sinking Down
5. Falling Again (Acoustic)
Label: Independent
Website: http://www.dauzatstmarie.com/
Hardrock Haven rating: 9/10