In Flames North American Winter Tour 2015
by Joe Dolan
– Columnist —
Feb. 20, 2015 at the Canyon Club in Agoura Hills, CA. —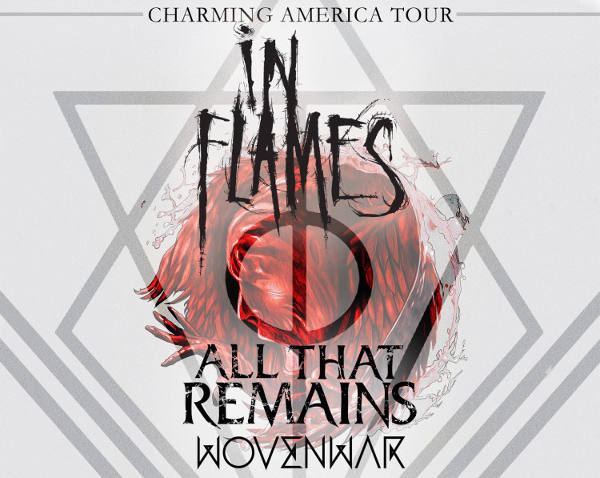 The now legendary Swedish Metal Band In Flames has begun their 2015 North American West Coast leg of the Winter Tour on February 20th at the World Famous Canyon Club in Agoura Hills, CA. With an announced 21 dates and a proposed total of 30 shows for this leg, the schedule will bring the tour up the west coast until mid-March before crossing in to the Great White North for just over a half dozen Canadian dates. This part of the North American Tour follows 15 North American show dates with Opeth and Red Fang in the latter part of 2014.
Opening on this leg of the tour is Wovenwar; the San Diego band that formed in 2013 to rave reviews and features former As I Lay Dying drummer Jordan Mancino. After the 2014 debut release of their self-titled Metal Blade Records CD, the band took to touring with Black Label Society in July and August of 2014, scoring airplay and attention with their first single "All Rise" and the follow up titled "The Mason." The CD peaked on the US Hard Rock Charts in the #3 position, offering a strong showing for a newly assembled group.
Wovenwar is continuing to tour in support of their freshmen issue CD, having appeared with In Flames in Europe from September to November of 2014, the segment of the In Flames tour that is to become the Live CD/DVD release arriving later in 2015. Wovenwar carries a high energy stage warming that brings the fans in to the seats. The response to the CD release and live performances has proven that the band will be headlining their own shows before long.
Main support, (in the middle slot), is All That Remains, featuring former Shadows Fall vocalist Phil Labonte (1997-1998) who maintained All That Remains as a side project during his brief stint with Shadows Fall. Now with six studio albums and a live CD/DVD, the band has etched a mark in metal history, and are proving their worth on tour with In Flames.
On February 17th, All That Remains announced that the new album titled The Order Of Things was premiering on iTunes Radio in it's entirety. This was an exclusive full length listen to the new CD and pre-orders were offered with added immediate downloads free with a successful pre-order purchase. The new CD can be found on iTunes, Amazon and Google Play.
Exclusive Video Coverage
Learn more about the bands at the following web links:
Wovenwar – www.wovenwar.com
All That Remains – www.allthatremainsonline.com
In Flames – www.inflames.com