by Christophe Pauly
– Senior Photojournalist —
Jacky Bastek is a finger-style guitarist and composer from Frankfurt, Germany. In 2014 she played her first live shows and started to share her music online getting a positive response right away. Her entry to the 'Lowden young guitarist competition 2014' went viral in the first few days and got over a hundred thousand views within a week. The video of her recent song "No Exit" gained even more attention reaching over 3 millions views in a Facebook post in less than two weeks.
Christophe Pauly recently caught up with Jacky Bastek who talks about her upcoming studio album and how she came to play finger-style guitar.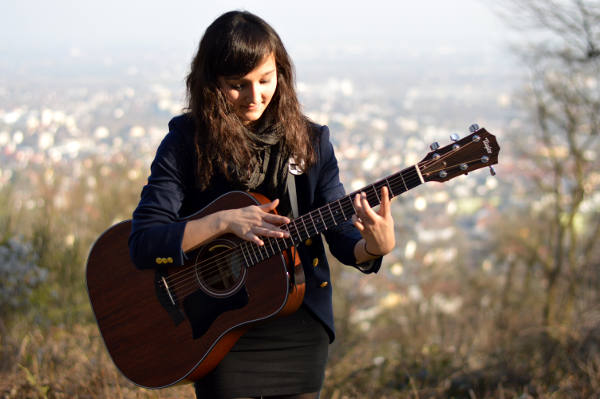 Hardrock Haven: I recently discovered your music via Youtube, and I was very impressed by your technique and your beautiful voice. When and how did you develop your skills? Did you learn to play the guitar by yourself?
Jacky Bastek: I basically started to do this after I had seen Jon Gomm playing. I was impressed by the drumming that he does on his guitar. And when I saw this, I wanted to do it myself. So, I tried to play some songs and try it by myself. Then, I met Mike Dawes in person at the Musikmesse, and he gave me some lessons. I then continued to teach it to myself.
Hardrock Haven: Did it take a long time to master the techniques?
Jacky Bastek: I started to play finger-style in 2013, I think. So, that was 2 years ago. And I started to play the guitar in 2010. In fact, I've been playing music all my life. I started to play the violin when I was 6. So, the whole string thing seemed very natural to me.
Hardrock Haven: What do you usually listen to? What kind of music inspires you?
Jacky Bastek: I listen to a lot of music and different genres. I listen to finger-style music, of course. But I was used to listen to a lot of metal music when I was a teenager. Nowadays, I listen to Progressive Rock music. I also listen to Classical music, as I play the violin, too. And I sometimes listen to Jazz or Bluegrass music.
Hardrock Haven: You're preparing your first album.
Jacky Bastek: Yes, I'll start the recording at the end of March. And I hope it will come out in the summer.
Hardrock Haven: Have you prepared a lot of songs for this album?
Jacky Bastek: Yes, I have finished almost all of the songs. I'd like to write two more songs, I guess. I'm in the process of writing a new one now. I'd like to write a song that includes a violin. So, it would be a duet of guitar and violin. I like, both, instruments, so I'd like to include them, both.
Hardrock Haven: I heard that you sing on some of the songs. Will you sing on every song this time?
Jacky Bastek: It will depend on the song. I'll sing on half of them.
Hardrock Haven: What are those songs about?
Jacky Bastek: You know, it's always different. One song, for example, is about a play by Jean-Paul Sartre. Another one is about the school system in Germany, and some other songs are about my experiences or about friends.
Hardrock Haven: Did you already find the right artwork for your album?
Jacky Bastek: Yes, definitely! I have a really good friend who's an amazing artist: Julia Gisella (https://www.facebook.com/JuliaGisellaArt) I've known her since kindergarten, so it's really nice to have her drawings for me. So that will be very exciting.
Hardrock Haven: How do you plan to play your songs live? Will you play alone?
Jacky Bastek: You know, the album will be me playing the guitar or the violin and singing. So, at the moment, I only play alone. But I'd like to record an album next year with a friend of mine. She's a piano player, and we like to play together. She writes some really good songs, probably because she comes from New-Zealand (laughs).
Hardrock Haven: Would you dream of some collaboration with other artists?
Jacky Bastek: I would love to do something with Jon Gomm because he's my guitar god. But, if I could choose someone I would really work with, it would be Joe Hisaishi, a Japanese composer that I admire, because he's my favorite musician ever.
Hardrock Haven: Do you plan to tour outside Germany?
Jacky Bastek: Yes, I'll probably play in England this summer with a friend of mine who also is a guitarist. I know some guitarists all over the world, so I hope to go to some great places. I also hope to play in the United States, as I have some fans there. Thanks a lot for your kindness.
Hardrock Haven: We hope to hear soon from you!
Visit Jacky Bastek online: https://www.facebook.com/jackybastekmusic/