Kim Choo of Feed Her To The Sharks
by Matt Karpe
– Senior Columnist —
Australian Metal-core bruisers Feed Her To The Sharks are on the verge of international stardom.
After signing with the mighty Victory Records last year, Feed Her To The Sharks have just released their first album with the label- their third overall in the form of Fortitude.
A ferocious slab of Melodic Metal-core, this record should guide them firmly into the spotlight, and deservedly so.
Currently at the top of their game, I thought it was the ideal time for a chat with guitarist Kim Choo to discuss Fortitude, their new record deal and the reason behind the Australian metal explosion- and you won't believe what it is!!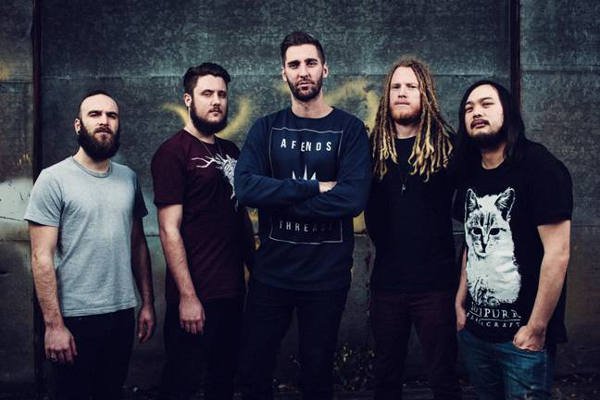 [Kim Choo (Far Right)]
HRH: Thank you for talking to HRH, how are you doing today?
KC: Really well! It's the weekend here and its 35 degrees! Probably going to go to the beach and relax.
HRH: Fortitude has just been released, your third album overall, how happy are you with how the record turned out?
KC: We're stoked! This is the record that we've been the most proud of thus far by a mile. Happy would be an understatement!
HRH: This is your first release since signing with the mighty Victory Records. What was it like signing with such a high profile label?
KC: We couldn't be happier! They've been very welcoming since we signed up, and really helpful in regards to everything about the band. They really match up well with the way we work, and we couldn't be more excited to release Fortitude through Victory Records.
HRH: Victory has a history of promoting Metal-core bands, so do you think this is the best place for Feed Her To The Sharks, knowing that you will be promoted well and given plenty of exposure?
KC: Hell yeah! We wouldn't have signed the deal with Victory if this wasn't the case. We know how much effort they have already put into our band and we know how much effort they're willing to put into us in the future! This is already proving to be a great band/label relationship, and we can't wait for the future.
HRH: Fortitude picks up where Savage Seas left off. It's brutal and crushing yet still incorporates those tasty melodic hooks. What did you, as a band do differently this time around and what newer elements did you experiment with?
KC: We took many influences from other styles of music! We listened to a lot of Hip-hip, Dance, Pop, Electro – everything. We tried any idea even if it sounded stupid. We added a lot of layers of synth and effects this time around to give the listener a much more exciting experience! Writing this album was much different to any other album we've done and I think that will be reflected pretty clearly.
HRH: You worked once again with Fredrik Nordstrom, who has now helped produce all three FHTTS records. Was it important to keep the same team together, especially as he knows what your strengths are, and you know what Fredrik can bring to the table?
KC: Yes! Fredrik is crazy, but we love him! We feel really comfortable working with him and Henrik (Udd- Co-Producer), and we thought that we didn't want to risk going with somebody else. We couldn't be happier with how the sound of the album turned out.
HRH: Do you have a favorite track on Fortitude, if so which and why?
KC: "The World Is Yours" is my favorite track! It really shows the listener what we're all about! That's why we put it as the first song on the record.
HRH: Australia is a hotbed for all Metal sub-genres right now, with the likes of The Amity Affliction, Aversions Crown and the return of I Killed The Prom Queen flying the flag. What do you think is behind the rise of Australian Metal, which has become more prominent to music fans in the States and the U.K., for example?
KC: Definitely the amount of Vegemite we eat! It is the best food product in the world, and really helps to write those crazy metal riffs and crushing breakdowns!
HRH: So what does FHTTS have planned for the rest of 2015?
KC: Touring! Writing! We don't plan on stopping or slowing down anytime soon! We can't wait to explore parts of the world that we haven't visited yet! And we absolutely can't wait to meet new fans all over the world!
HRH: With your signing to Victory, no doubt your popularity will rise and rise, but for anyone reading this now, why should people go and check out FHTTS?
KC: Check us out because we have a twist to our sound that you won't find anywhere else! Once you get on the same page as we were on when we wrote this record, you'll realize why! Hope you guys enjoy Fortitude as much as we enjoyed creating it!
HRH: Thank you again for your time Kim.
KC: Thanks so much for the interview! Have an awesome day!
Fortitude is out now via Victory Records, on iTunes and in all good music stores.
For more information go to www.feedhertothesharks.com of the official FHTTS Facebook page.