Rob Castoria of Maniac Rise
by Alissa Ordabai
– Senior Columnist —
Ignoring conventional wisdom of big record labels, Rob Castoria plays the game by his own rules. Realities, which gave birth to Thrash and now have become a distant memory for many A-listers of Heavy Metal, never have stopped fueling his work. This is what brings out the ferocity in his music and keeps it in direct connection with his audience. For Castoria's fans, his music is a tangible, accessible thing, not fantasies of multi-millionaires who are driven to perform by financial gain.
Born and bred in Queens, NYC, Castoria got into music at an early age, quickly mastering amazing chops and starting to play in bands. And, although he remains modest about his technical ability, his playing is a sight to behold. Virtuosic and imaginative, his chops get crowds at his shows to cheer in awe after each neck-break solo.
Hardrock Haven caught up with Castoria earlier this month for a chat at New York's iconic Duff's Bar — the pantheon of all things Metal, grotesque and plain freakish. Castoria generously shared the history of Metal in New York City, his love for the guitar, and spoke about the album he released two years ago, Swallow My Evil.
The record is a rollicking throwback to the time when Thrash meant playing fast and furious. All songs were written and performed by Castoria, but since then, five names have been added to the lineup: Dave Sussman on bass, Servo on drums and Maven on vocals. Performing live, they are a force of nature — Servo directs the constantly shifting time signatures with blustering audacity, while Sussman puts the flesh on the bones. Castoria's guitar adds spectacular dimension to the soundscape, and Maven's voice colors the band's universe in every hue of darkness imaginable.
People like Castoria — who keep Metal a fresh, genuine genre — always fascinate our readers, so I followed up on our initial meeting with an interview. Here, Rob Castoria (aka Big Rob) speaks to Hardrock Haven about the album, doing what you love despite the obstacles and makes us all believers in the words he lives by: "Diversity is the key to true musicianship."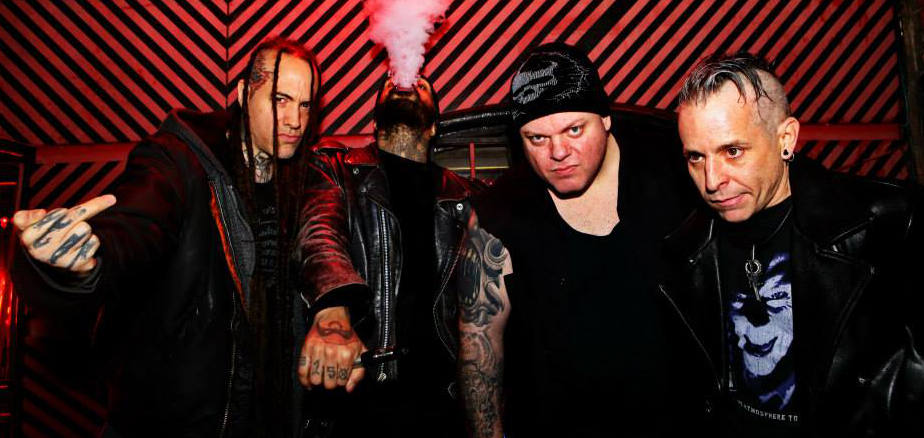 [Photo courtesy of Max R Sequeira]
Alissa Ordabai: At what age did you begin to play and what inspired you to pick up the guitar?
Rob Castoria: I started to play guitar at the age of 7 in 1978. I took lessons from an amazing woman named Cathie Abruzzo-Serpico. Thank you so much for all you have taught me. I am forever grateful to you. I was inspired by listening to my cousin's Black Sabbath, Jimi Hendrix and Led Zeppelin albums.
AO: Were you growing up in a musical family?
RC: Yes I was. My sister, as well as my cousin, play piano. My grandmother played violin in an orchestra many years ago. My grandmother always pushed to have the children learn an instrument. My first choice was to learn drums, but my mother did not want the loud racket, so I settled for the guitar. I also play a bit on the piano I have at home; nothing much at all but a few simple melodies, and I also played the trombone during my junior high school years in the school band.
AO: What was the NYC Metal scene like when you were starting out?
RC: Wow, great question. It was much more intimate yet very segregated. For instance, there were no computers or cell phones. We had to hand out tickets and flyers on foot, hang flyers on telephone poles and interact with people at shows face-to-face in order to get support for the band. It was segregated in the sense where each genre had its own "mini-scene" within. For instance, Hard-Core was strictly skinhead band members and fans. Punk rockers stayed together, as did the Glam, Hair Metal people and the Thrashers. Obviously, people from each genre listened to and supported other genres but not to the extent it is today. In today's scene, you can have an eclectic array of band members, such as skinheads, long hairs, mohawks, etc., in one band. You just did not see that much at all back in the day.
AO: What was your first band?
RC: My first band was a Thrash band called Metalstorm. The band was formed around the 1985 mark, and I was asked to join soon after. Our first show was June 26, 1986, (you tend to remember these things) and the band broke up sometime in late 1989.
AO: What motivated you to develop your virtuoso technique?
RC: I will try and stay humble and not think of myself as a virtuoso, but after listening to Tony Iommi, Jimi Hendrix and Angus Young at a very young age, I was definitely inspired to practice my ass off. Then I heard Eliot Easton from the Cars and Barry Goodreau and Tom Scholz from Boston. Even though they are not considered "Metal," their playing made a huge impact on me. The harmonies and melodic playing was great. Then my life changed when I heard Eddie Van Halen; he blew me away, unreal. I then heard Yngwie and could not believe someone can actually play that well. My top three guys: Hendrix, EVH and, GOD himself, Yngwie made me practice until my fingers bled. Every bad note I hit, I'd say to myself, "Play it again – until you get it right."
AO: How did the Swallow My Evil album take shape? What guided you through the selection process when you were choosing tracks for this release?
RC: Well, after a six-year absence from the Metal scene, I started hanging out again and saw a lot of friends playing and releasing material. I barely touched the guitar from 1999-2005, and once I saw friends playing shows, I got inspired again. I had a lot of material written and figured the best way to start a band was to complete a CD and have a finished product for potential band mates to hear. I went to a well-known producer in the scene named Stacy O'Dell, and we began work on the CD. He produced, mixed and mastered the CD, as well as programmed the drums. I wrote all lyrics and music, played all the guitars, bass and did all vocals except for one track — "Killer at Large" — which features Jessica Pimentel on vocals. The CD originally was geared to have many guest musicians on it, but once I heard my vocals I was pleased and decided to stay as the only vocalist, aside from Jessica's track. The tracks I chose were gathered from a 30-year archive. "Burial" and "Silent Assailant" were written in 1986 and 1987, respectively, and also were performed with my old band Metalstorm. "Addiction;" parts of "Killer at Large" and "Swallow my Evil" were written in 1990, and "Resurrection Absurd" and the rest of "Swallow my Evil" and "Killer at Large" were written in 2013.
AO: In terms of technique, what was the most challenging aspect of this record?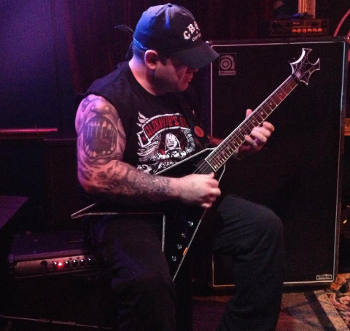 RC: As far as technique goes, the biggest challenge of this record was the time signatures. I never had any recording devices in my home, so whenever I wrote a song, it was just me writing and arranging riffs by myself, never having any click or metronome to play along with. When it came time to track them, the timing was so unpredictable that it was a real pain in the ass. Stacy once referred to me as "the most unorthodox and unpredictable player he has ever worked with." It was a challenge at times, but without challenges, there is no advancement.
AO: Are the solos on this album all worked out in advance, or are there examples of improvisation?
RC: I would say 99 percent of the leads on this album were written out. There were a few instances where having some input from Stacy helped me mold some leads to fit better and not be overplayed. Like I said, I was the only one who worked on any of this material, and once a fresh set of ears heard it, I was open to constructive criticism, especially from a great producer/musician, such as Stacy.
AO: Do you have favorite tracks on this album?
RC: Maybe "Addiction" because I was a huge fan of Coroner in the late '80s, and Tommy T. Baron was a riffing God to me. If you listen to Coroner's Punishment for Decadence CD, you will hear the huge influence. "Addiction" is full of Coroner-type riffing and runs, and the lead was a nice shred. I was very happy to record that song because it was the most intricate one I wrote, and I worked very hard on it.
AO: What inspires you as a songwriter/composer?
RC: I am inspired by anyone who keeps doing what they love, no matter what obstacles present themselves – whether it is musically or life, in general. When I see a band on stage trying to make it or artists creating what they love, I am inspired. Or I can just throw on an Yngwie CD.
AO: How do you maintain your technique? Does it require every day practice?
RC: I think technique is something you either have or do not have. I know a lot of players who are born with the ability to excel at whatever they do. Others play for years and would be so much better if they acquired technique. As far as practice, I try to play every day. Sometimes it is hard to do with hectic schedules being a factor, but the only way to get better and maintain is to practice. To answer that question in a few words – I try my best to practice every day, as should everyone who is an artist.
AO: I am hearing that you give guitar lessons. What do you love about teaching?
RC: I would not go as far as to say that I teach. I really lack the patience to get into theory with someone who is a novice player. (I am quite rusty myself). However, I do offer tips and tricks to friends of mine and am always happy to help a future shredder.
AO: What main advice would you give to anyone who is just starting out on the guitar?
RC: I am sure all will agree with me when saying to someone just starting out that they should stick with it, no matter what. There will be times when you get frustrated and times where you feel you are not advancing – it happens. Just keep at it and listen over and over to whoever inspired you for incentive. An old teacher of mine once told me the words that I live by: "Don't ever play anything faster than you can play it perfectly." The most important thing of all is practice.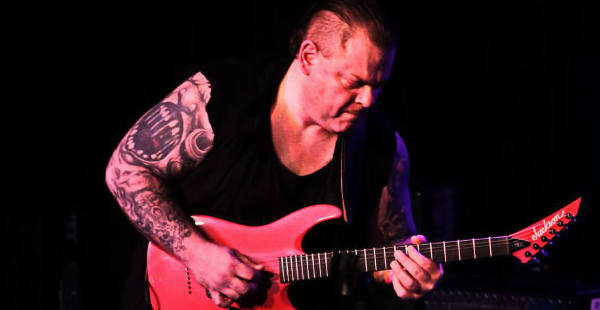 [Photo courtesy of Max R Sequeira]
AO: What are you working on at the moment, and what are the band's plans for 2015?
RC: At the moment, I am writing new material for Maniac Rise. We have a few shows coming up, and we are rehearsing a lot. We have recorded a song for an upcoming tribute CD for Tony Iommi. We covered "Time is Mine" from Iommi's solo album.
As for me personally, I am working on an EP – side material. I have one song recorded already. It is called "Tomorrow's Dream" and features Tom Morrisey from Killcode on vocals. I wrote the song in 1987, and Tom wrote the lyrics. It's very '80s Hair Metal. You can search on Youtube for Maniac Rise, "Tomorrow's Dream". Also there is an acoustic ballad I have written … thinking about a title and lyrics, and last but not least, an Yngwie-type Neo-Classical instrumental. It is kicking my ass, but I will be done soon. I'm trying to keep myself as busy as possible by doing guest leads for Blood of my Brothers on a track called "Mother's Day" and also an upcoming guest shred on Spacebeard's new CD.
These projects I have going on also are ways of broadening my horizons as a player. I am NOT just a shredder, and these side projects and new songs will show a different side of my playing. Words to live by: "Diversity is the key to true musicianship."
Visit Maniac Rise online: https://www.facebook.com/ManiacRiseMusic