by Deb Rao
– Senior Columnist —
It has been 29 years since Southern California rock band Ruthless has released a new album. That is all about to change with their latest release They Rise. The band is ready to pick up where they left off. They say timing is everything. Ruthless is poised for an epic return. The demand for pre-orders is high and the album is selling well. They Rise is a little bit heavier than the bands two previous releases.
Sammy D gives Hardrock Haven all the exclusive details surrounding the return of Ruthless and new CD They Rise.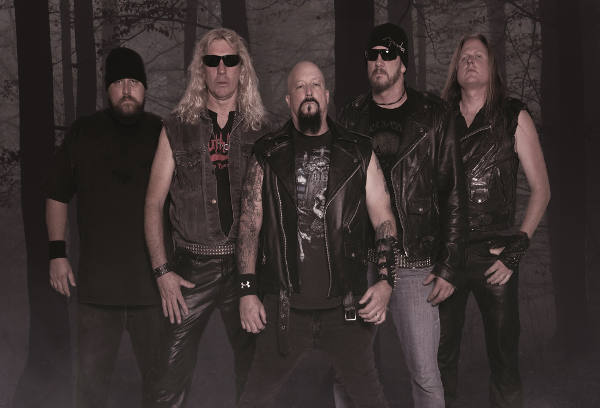 HRH: Sammy, it has been 29 years. What inspired the band to get back together?
Sammy: This is actually the second time that we have gotten back together in the last ten years. We got back together in 2007. We went to Germany to play a festival and the promoter asked if there was anyway we could get back together? I talked to Kenny McGee the guitar player. We actually got our original bass player to join us at that time. We got Jim from Dark Angel to play the other guitar and grabbed ourselves a drummer and went out and played the show. We came back thought we would do a couple of more shows and it didn't really click. So everybody just went their ways. Kenny and I decided to start writing last year. We weren't even going to call it Ruthless. We got his brother to Marc come down and play bass and got a drummer Jason Van Slyke. Everything just clicked. We brought in Dave Watson the other guitar player. Everything just clicked and we started writing. We said the name of the band has always been Ruthless just let's keep it Ruthless. And let's get rolling.
HRH: What was the vibe like in the studio? Did you want to keep your signature '80s sound?
Sammy: Kenny and I kind of wanted to update things a little bit. The other guys were all saying why? Ruthless has a legacy. Let's keep that Ruthless sound. That is basically what we did. It is a little heavier than it was back in the day.
HRH: I can notice that. There is a lot more speed metal.
Sammy: That is kind of me. I have always loved the thrash speed metal stuff. If the original line-up would have stayed together, Roland I started to write a couple of speed metal tunes. It just didn't work out and they went their own ways. I have always been into thrash. We got those influences in there and it is just coming out in the music. At least it still sounds Ruthless.
HRH: It sounds great. Every song is different. I love "Gates Of Hell."
Sammy: "Gates Of Hell" is one of our classics. I am so happy after 30 years, it is still selling. It is still a popular song. That and "Metal Without Mercy." That is our two signature songs. Now we have come out with new stuff that will have a couple of signature songs on there too. I think "Defender" and "Hang Man" are already signature songs.
HRH: How many songs are new on the album?
Sammy: Because "Metal Without Mercy" has been released a few times, Pure Steel had an idea to combine the new one with some bonus tracks. The first nine songs are They Rise. The next five are Metal Without Mercy as bonus tracks.
HRH: The song "Time Waits" has some nice guitar work.
Sammy: That is one of my personal favorites. I wrote that song after my Mom had died. It has got a personal meaning to me. If somebody has anybody out there that they lost that is what it is about.
HRH: The song "Hangman" has a cool drum vibe going on.
Sammy: Yes, Jason and Marc were warming up. Before you know it, Kenny and Dave just come right in with some guitar riffs. I just jumped in and started singing right away. And Boom! that is how a lot of our songs happen. The title cut They Rise, that song came about the first day that we all jammed together.
HRH: What does the title song mean to you?
Sammy: It has got several different meanings. They Rise, yes we are rising back. I am into horror movies. So it has to do a lot with zombies. (Laughter) But is also has a political thing too. I am a political person.
HRH: How has the scene changed since back in the day? What made you feel that this is the right time for the band to reunite?
Sammy: Real metal started coming back, after that NU-metal disappeared. For a while, LA was a lot of death metal bands. There was no place for a band like us. Now it is like thrash metal and true metal are started to come back. The scene is started to really revive.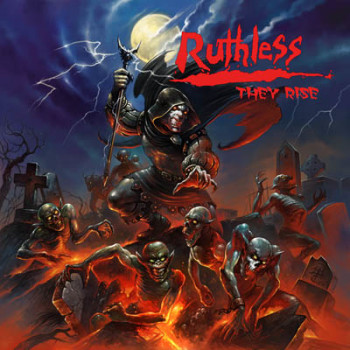 HRH: Do you have touring plans or CD release party?
Sammy: We got a CD release party set up for March 14. It is at South Bay out here in Carson, Calif. There is mostly going to be a few industry people here, friends and a few fans. We are going to let everybody hear the CD. We will actually play a few songs.
HRH: Do you think you will play Vegas?
Sammy: We got plans. I know we are going to be playing out in Vegas, Reno, and Arizona. We will be touring the Mid West and East Coast and Texas. We are going to try and get as much as the United States, as we can this year. We are playing the Headbangers Open Air in Germany. Next year is going to be the big year, where we really blow it out to the rest of the world. We want to hit the U.S this year and really let them know we are back.
HRH: For the new fans hearing you for the first time, how would you describe your sound?
Sammy: It is Ruthless. It is true metal. We are in the same vein as Priest, Accept, and Saxon. Bands like that. Those bands are all bands we all grew up listening too. We got to open for Saxon and Accept. My thing is I want to open for Priest. We are really happy with the album. It just came out last week and they had a lot of pre-sales. It is selling very well. We are very excited right now. It is inspiring us to already start writing on the next CD. Pure Steel is a great label. Then we got Chip here. Chip is like the world's greatest PR guy.
HRH: Yes, he is awesome. How do you feel over the 29 years that the band has evolved?
Sammy: We have grown up a lot. We are not the punk kids. The music has always come first but there was always let's go party time at the same time. That is not even part of the equation anymore. It is all about the music. And the fans and we want to give them the best. So to give them the best, we have to be our best. That is the way we look at it.
HRH: I noticed too that a lot of the bands think that way and the scene has changed so much since back in the day. It is all about the music now. Thank you for your time Sammy. See you in Vegas.
Sammy: Thank you.