by Deb Rao
– Senior Columnist —
Feb. 6, 2015 at Vamp'd in Las Vegas, NV. —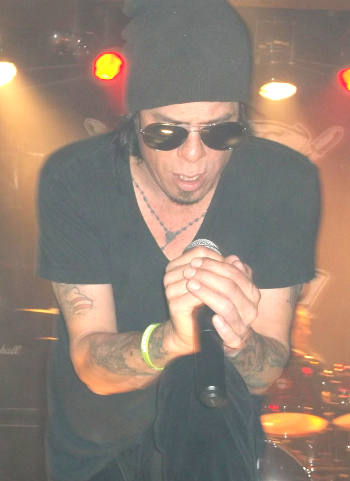 One of my favorite bands from the '80s Bang Tango made a special appearance at Vamp'd in Las Vegas on Feb. 6. Bang Tango is celebrating their 25th anniversary. It is hard to believe 25 years have passed since "Someone Like You" roared on MTV.
Bang Tango always had an interesting Funk-blues infused sound. They had a different vibe than most '80s bands. Joe LeSte' is still a dynamic front man. The band has gone through many line-up changes sparking the new addition of guitarist Rowan Robertson. Rowan's claim to fame is that he toured with Ronnie James Dio. The line-up also features Lance Eric on bass, Joe LeSte' on vocals and Timmy Russell on drums.
Bang Tango opened with "Ready Set Go." Joe and company were on fire. It was a Thursday night and the band was ready to party. Next up "Dancing On Coals."
Highlights of the set included "Wrap Your Wings." The band also performed new song "Bring On The World."
Every song was hard hitting, as the Funk infused grind prevailed. Joe has a vocal style that is kind of Bluesy. He is also a huge AC/DC fan. The band performed one cover, the ZZ Top hit "Tush." Bang Tango has a busy tour schedule on tap and will be performing at M3 this Summer.
One of the most underrated and hard working bands in the business, Bang Tango did not disappoint. It has been a while since I had seen the band, and Rowan Robertson is a great addition! Be sure to check out Bang Tango! Singer Joe LeSte' still has what it takes and the band just keeps getting better and better.