LIVE! | Devour The Day and Hellyeah
by Deb Rao
– Senior Columnist —
Feb. 7, 2014 at the Brooklyn Bowl in Las Vegas, NV. —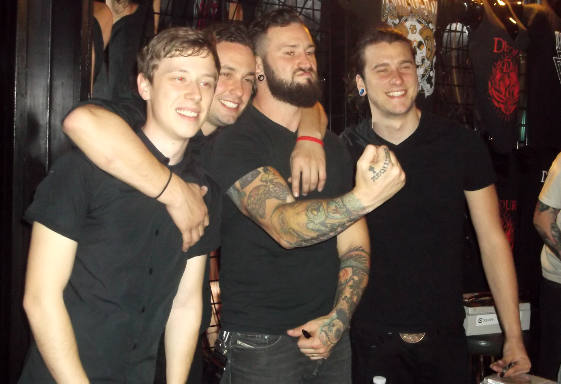 Devour The Day has landed one of the most coveted spots opening for Hellyeah on the Blood For Blood Tour. Devour The Day has been garnering fans worldwide since their last appearance in Vegas last year. On Feb. 7, Devour The Day and Hellyeah made a special stop at the Brooklyn Bowl in Las Vegas.
This was my first time at the Brooklyn Bowl at The Linq. This club is what Las Vegas needs. The format includes a bowling center, restaurant, and nightclub. It kind of draws you in that New York state of mind so to speak. The nightclub is upstairs and very spacious with a side bar and yes leather couches in the VIP section.
Devour The day hit the stage at 9:30 P.M. Singer Blake Allison commanded the stage, as the band opened with "Respect." The band sounded tight and ready for this prime time slot. One of the interesting aspects of the band is that the former Egypt central members have their own unique sound, which is heavy and yet melodic at the same time that makes you stop and listen.
Other highlights included song" Get Out Of My Way", and "Black Out." Devour The Day also debut new song "Faith." This song is very heavy and a sure fire hit. They closed with the epic "Good Man." It was great to see the band in a large setting. After the show, Devour The Day did a meet and greet. Singer Blake Allison tells Hardrock Haven, "The band is very lucky to be on this tour with Hellyeah."
Hellyeah took the stage with a vengeance opening with the song "Hellyeah." In concert the band has a very heavy sound than on record. Vinnie Paul was outstanding. It was opening night of the tour and the band was revved up. Vinnie resides in Las Vegas and also Dallas, Texas. Highlights included new song "Blood For Blood."
Be sure to check out this tour this winter.
Devour The Day Set List:
Respect
Black Out
Get Out Of My Way
You And Not Me
Check Your Head
Heaven Sam
Faith
Good Man
Special Thank you to Amanda from ABC for making this review possible.