by Deb Rao
– Senior Columnist —
Feb. 19, 2015 at Vamp'd in Las Vegas, NV. —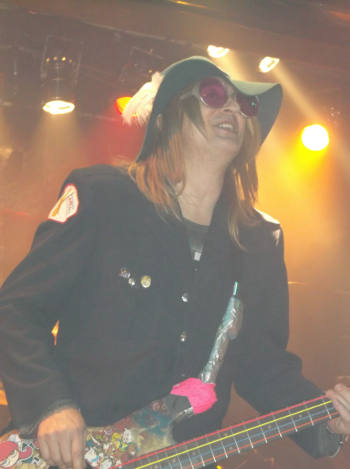 Enuff Z'Nuff kicked off their West Coast Tour on Feb. 19 at Vamp'd in Las Vegas, NV. The line-up featured Chip Z'nuff on bass and backing vocals, drummer Erik Donner and singer Johnny Monaco. The set list was pretty impressive and spanned the bands extensive career. The band hails from Chicago so it must have been a treat for them to hit the balmy 70 degrees in Las Vegas.
Enuff Z'nuff hit the stage at 11:30 P.M. with "Kiss The Clown." I was really impressed how tight the band sounded. Singer Johnny Monaco is doing an excellent job. The band seemed to have a newfound energy, as they cranked out song after song. Johnny has a voice that is cross between the singer from The Psychedelic Furs to The Church front man. His catchy phrasing and melodic overtones really set the band on fire with a definite edge.
Other highlights of the set included "Baby You're the Greatest," "I've Fallen In Love Again" and "Sanibel Island." They even did a Wings cover "Jet." Bassist Chip Z'Nuff looked really in style with his cool floppy hat, red boots and colorful bass guitar His playing was impressive and was captivating and colorful to watch in concert.
This was my first time seeing the band without Donnie Vie and I was really impressed. The songs just flowed. They really fit into a band of the now rather than a '80s unit. Highlight of the set would have to be their staple song "Fly High Michelle." And the song "The World Is A Gutter" rocked hard showcasing the bands punk rock roots. But the greatest aspect of the set occurred as the band managed to breathe new life into the older songs. They kind of have more of a punk rock sound these days infused with the Beatlesque overtones. I could have listened to the singer all night. He was that good. Enuff Z'nuff definitely left the fans wanting more. So many great songs to fit into the time allotted. But they did a great job getting to all the favorites in the nearly 90-minute set.
Be sure to check out Enuff Z'nuff on tour this month.
Set List:
Kiss The Clown
One Step Closer To You
All Night
Baby You're The Greatest
I've Fallen In Love Again
Day By Day
In Crowd
Sanibel Island
Jet
There Goes My Heart
Fly High Michelle
New Thing
The World Is A Gutter
Finger Tips
Good Times Are Hard To Find
Visit the band's official website: www.enuffznuff.com