Livio Gravini and the Free Spirit Society | No More Secrets
by Alex Barbieri
– Senior Columnist —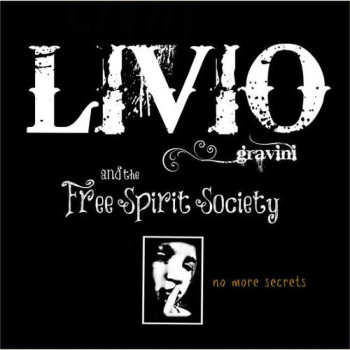 Fans of Livio Gravini's soulful rock voice have been waiting for his first solo release, and it's finally here. It is in a word, real. If you're into organic, blues-based rock 'n roll sung and played with heart and soul, put Livio Gravini and the Free Spirit Society's No More Secrets on your must-buy list.
New England rockers will know Livio from Joined Forces, the hard rock band he's fronted for two decades with guitarist Jimi Bell of House of Lords. During summer 2014, Livio and a team of veteran musicians holed up at Spirit House Recording Studios in a secluded spot in Northampton, Mass.
Funded largely by friends and fans via an INDIEGOGO campaign, No More Secrets was produced, engineered, and mixed by Danny Bernini, and features guitarist John Cantalini, bassist John O'Boyle, drummer John Myslinski, keyboardist Paul McNamara, pianist Seth Glier, percussionist Danny Bernini, and not surprisingly, long-time bandmate, Jimi Bell.
By turns confident and mature, loose and fun, Livio and his songs are the antidote, the salve, to the generic, auto-tuned disposable pop that often infects the airwaves. This is real rock 'n roll, forged from years of writing, rehearsing, playing live and just plain living.
Highlights of No More Secrets include title track "No More Secrets" with its killer Zeppelin-esque riff, "Wake Me When the War is Over," a throwback back to Bad Company and The Georgia Satellites, and "Look at Me Go," which channels Tom Petty's "Mary Jane's Last Dance," and the Black Crowes-sounding "Angel (I Wanna Fly)."
Throughout this very strong collection of Strat-driven rockers and acoustic-based ballads, Gravini's voice shines with all the whisky-throat and she-left-me heartache that makes listening to Robert Plant, David Coverdale and other vocal kings so visceral. When Livio sings, you don't just hear it—you feel it.
Keen-eared rock fans will hear many of rock's greats in Gravini's voice, from the late Badlands singer Ray Gillen to Soundgarden's Chris Cornell, to the ageless and inspiring Glenn Hughes—all great company, for sure.
If there's any criticism—and it's minor—it's that the album would have benefited from a few more rockers on it, but that aside, if you're looking for a high quality, real Rock 'n Roll record to warm you up this winter, fire up Livio Gravini's No More Secrets. The secret is out about Livio!
Genre: Rock, Blues Rock
Band:
Lead Vocalist/Guitar- Livio Gravini
Lead Guitarist- John Cantalini
Bass- John O'Boyle
Drums- John Myslinski
Keyboards- Bob Casinghino
Track List:
1. Wake Me When the War is Over
2. Look at Me Go
3. No More Secrets
4. Angel (I Wanna Fly)
5. Over the Wishing Well
6. The Winner
7. A Love for Every Season
8. Promised Land
9. Piece of My Heart
10. I Gotta Know Why
Official: http://liviogravini.bandzoogle.com/store
Facebook: https://www.facebook.com/liviomgravini
Hardrock Haven rating: 7.5/10