The 2015 Winter NAMM Show Experience
by Kathy Kindred
– Editor in Chief —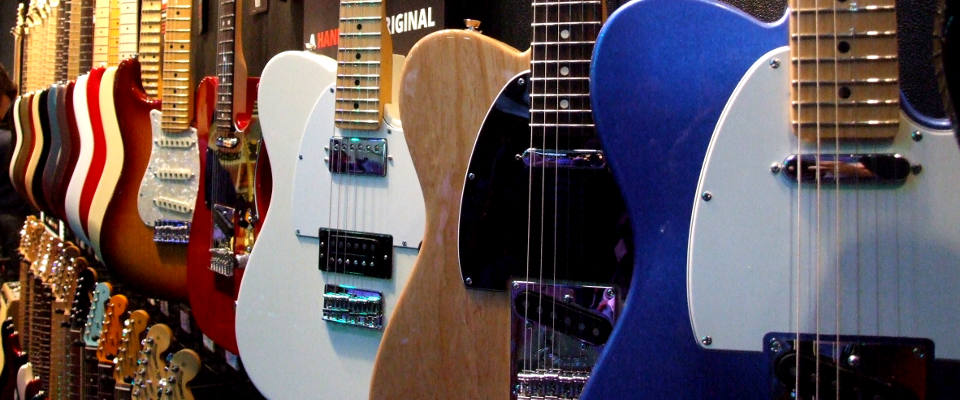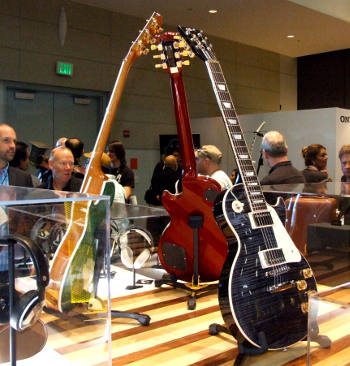 The NAMM experience is a complete immersion into sensory overload. Yes, all five senses. Each year, the National Association of Music Merchants hosts the four-day Winter NAMM Show at the Anaheim Convention Center in Anaheim, Calif. This year, NAMM had a record-breaking year since its inception 114 years ago, bringing together 1,621 exhibiting vendors from 100 countries. The not-open-to-the-public show also drew a record-breaking attendance of 99,342 participants, including buyers, exhibitors, exhibitor artists and associated guests, college music students, music teachers and members of the media.
It's been said that NAMM is the Disneyland for musicians, and it's true. For musicians and buyers, it's like being a child in a candy store. I'd like five of those guitars, three of these basses, some of those pickups, a few of these humbuckers, a couple of these tremolos, a dozen of those amps and a couple of these drum kits – and oooh, I'd also like some of those pedals and these mics. The options seemed endless.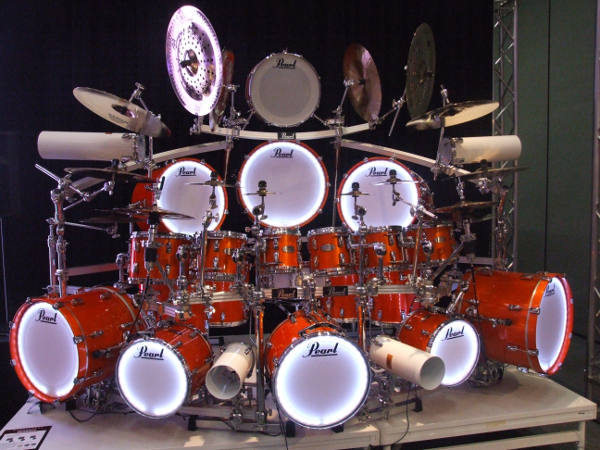 The sheer enormity of the NAMM Show boggles the mind, at the very least. There was so much to hear that the cacophony of it all was so taxing on the ears. The thousands and thousands of products to see also made the eyes dry and tired – afraid to blink because you might miss something. Neck muscles ached, much like watching a tennis match, with heads turning left and right to see as much as you could. There was no fear of hands being slapped for touching things, as vendors encouraged visitors to test drive their products. And, oh, the walking, which seemed like endless miles within the convention center and the immediate surrounding areas, was a calorie burner. NAMM is a full-body workout, that's for sure.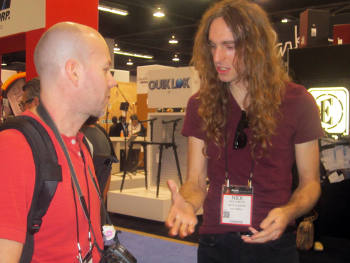 To get reinvigorated and re-energized throughout the days, visitors could grab a bite to eat and something to drink, both, in and outside of the convention hall. The varied smells from the plethora of food trucks, which were parked just outside the convention doors, made stomachs growl and mouths water. All kinds of food and libations could be found, ranging from varied ethnic foods to burgers/fries to surf/turf. Drinks included simple bottled water, sodas and wonderful collections of locally brewed beers. It was pleasant to sit outside in the warm sunshine, have lunch and listen to bands perform on the outdoor GoPro Stage.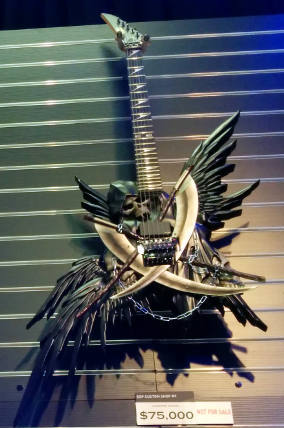 Of course, the industry's heavy-hitters, such as Fender, ESP, Seymour Duncan, Marshall, Pearl and Yamaha, among many others, drew massive crowds that wanted to see gorgeous custom work, the newest products, and let's not forget the well-known artist endorsers. For the well-known musicians, NAMM is a place to see and be seen, whether they liked it or not. Fanboys and fangirls, alike, could be seen frantically trying to get selfies with their favorite artists as they walked about the convention floors. At times, it seemed kind of stalkerish, which was kind of funny (or not for the musician).
The music industry's big names attract the most media coverage, that's no surprise. But NAMM isn't exclusive to the bigwigs. The organization encourages emerging companies to join in, and, surprisingly it's not terribly cost prohibitive for smaller businesses to become NAMM members and/or register for vendor booths. A medium-sized booth without all the bells and whistles can cost around $3,000 USD; not bad at all for four days of massive global exposure.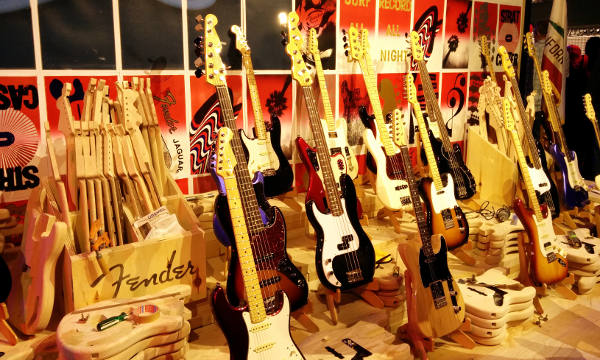 Necessity is the mother of invention, and it could be seen at NAMM, as there were a fair amount of smaller, up-and-coming vendors at this year's NAMM.
Charles Dickinson, who owns and operates Cathedral Pipes Microphones, needed a mic for one of his own gigs. So, out of his home, he custom created one for his specific needs. Then friends and friends of friends began asking him to build mics for them. After awhile, he decided it was time to make mic building a business. Each unit is hand-crafted to buyers' custom specs. You can check them out at http://www.cathedralpipes.com/.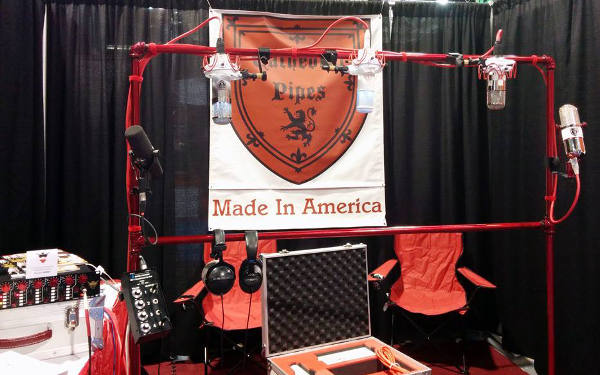 Joseph Fortmuller owns and operates Sinister Guitar Picks. He has a patent pending for single metal edges and twin metal edges without the picks entirely being made of metal. Hardrock Haven staffers have test driven these little gems, and they deliver exactly what the company says they will: A fantastic tone, much quicker attack, and they almost are indestructible.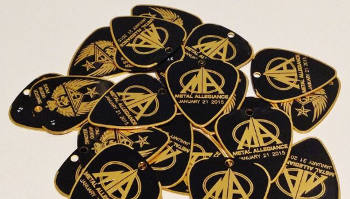 Sinister Guitar Picks also was asked to sponsor the Jan. 21 pre-NAMM Metal Allegiance show at the House of Blues in Anaheim, Calif., which featured Steve Souza and Gary Holt of Exodus; David Ellefson and Chris Broderick of Megadeth; Mark Osegueda of Death Angel; Andreas Kisser of Sepultura; Mike Portnoy of The Winery Dogs; Rex Brown of Pantera; and Alex Skolnick and Chuck Billy of Testament, among others. To commemorate the event, Sinister Guitar Picks produced 50 limited-edition guitar picks, which were made with real gold. Each of the picks came with a Certificate of Authenticity, which matched the number on the picks. The company also produced non-gold versions that were available to everyone who attended the Metal Allegiance show. For more information about Sinister Guitar Picks, go to http://www.sinisterguitarpicks.com/.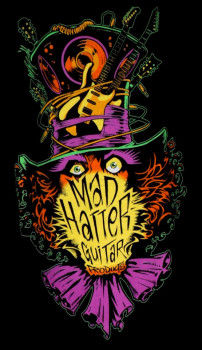 Another interesting company is Mad Hatter Guitar Products, which is owned and operated by Ed Heisler. The company has a patent pending for the production of its solderless tone shaping systems. With only a screwdriver, guitarists quickly can change pickups and tone capacitors. Mad Hatter offers a solderless dual volume, dual tone kit; dual volume, single tone kit; single volume, single tone kit and its S-Type kit. Just flip a switch, and the universal CTS "Goes 2/11 Volume" and "Killer Tone" pots can be changed from 500K to 250K and vice versa. These solderless systems easily enable guitarists to find that "sweet spot" in tone. For more information about Mad Hatter's solderless systems and its other guitar products, go to http://madhatterguitarproducts.com/.
A Little Thunder is another emerging company. Owned and operated by Andy Alt, A Little Thunder produces a ground-breaking humbucker pickup that adds a bass signal to the two lowest strings on electric guitars, leaving intact the signal of all six guitar strings. The addition of the bass feature requires no physical modifications to the guitar: No drilling, routing or adding extra strings. There also is no need to replace 9V batteries or use MIDI. Guitarists only need to remove their existing humbucker, install the new pickup, and within about 5 minutes, guitarists will have the ability to push a button to activate the technology.

The three controls for the pickup are on board a custom-designed pickup ring: An on/off switch, a -1 or -2 octave switch and a polyphonic (two bass notes at once) or "low note priority" mode (the pickup detects the lowest note being played and only applies the bass effect to that note). Because the technology is housed within the pickup itself, players will experience virtually no latency or tracking issues that they may experience with external technologies, such as octave pedals. For more information about A Little Thunder, go to http://www.alittlethunder.com/.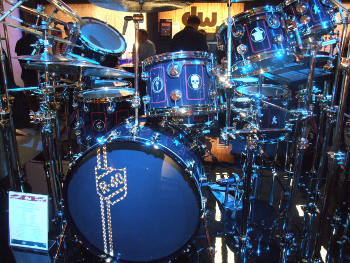 These companies are just a few of the many emerging entrepreneurs that were represented at the NAMM Show. Yes, it's fun to see Fender's and ESP's custom shops, but NAMM encompasses more than the big brand names.
After all, NAMM is a nonprofit organization that strives to strengthen the music industry, as a whole, and promotes the human connections that can be made by actively participating in making music throughout one's entire life.
Music truly is a universal language, and for those who are passionate about music and the many benefits it provides, NAMM is the single best event to attend at least once. You never know when lifelong connections, professional and personal, can be made among the nearly 100,000 people who attended this year's Winter NAMM Show.
For more information about NAMM or register to become a member, go to https://www.namm.org/