Tony Mills | Over My Dead Body
by Derric Miller
– Managing Editor —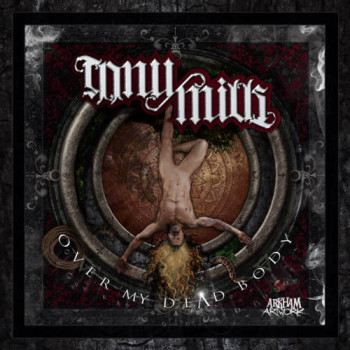 One of the greatest vocalists in rock and metal—Tony Mills—has just graced his fans with a brand new solo effort, Over My Dead Body. Whether you are a fan of Mills because of Shy back in the day, or Siam, or projects like China Blue, or his monumental task of replacing Tony Harnell in TNT for a time, or his solo albums or any of his session work … well as you can see, his resume loudly speaks and sings for itself.
Over My Dead Body hits on all of Mills' former bands and projects, painting the music with his '70s, '80s, '90s and beyond influences. There's hues of Siam, swathes of '80s influences like Judas Priest and Queensryche, strokes of AOR, and brushes of everything else. It's a multi-faceted album that can be dark and gloomy, and then poppy and mainstream, like on "Somewhere in London."
It all begins with a dark, menacing voice … almost like Gandalf warning of orcs … with the sentence "You have reached the gates of your own Hell. The chains were forged by you alone. Save your prayers, for God hears you no longer!" Nice to meet you too, Mr. Mills! "Time Won't Wait" isn't as bleak musically as that, but the lyrics are biting and caustic throughout, especially on lines like "Here comes the pain and here comes the warning!" It's a heavy (in more ways than one) intro to Over My Dead Body.
The words "Tripping the light fantastics nothing" blares at you at the onset of "28 Flights." This is an upbeat, blazing song that is softened by keys from Eric Ragno and of course, Mills' vocals. His versatility shines all over Over My Dead Body, and to hear him race along and later, put an edge in his voice and lower it on the lyrics "I'm gonna find me a another way" at the end of the song speaks to that vibe.
The first single from the new album was "We Should Be On By Now." It's orchestral, it has the pageantry of a Queen hit, and it's a risky first single because don't listeners need to be spoon fed the most accessible and syrupy track initially? Mills went the other direction, trusting his fans can digest diverse and complicated compositions. When it starts, just keys, Mills, and strong backing vocals, then soars to the chorus, it's majestic. It may be the most lyrically intelligent song as well, especially on lines like "We should be on by now, with a light of inspiration in our eyes … even when it dies." It's a call to arms, to stop waiting for tomorrow, because after enough tomorrows, you are dead.
Mills co-wrote "No Love Lost" with Paul Sabu, who owns a strong resume in his own right. You get an AOR vibe from this one, with massive backing vocals and a bunch of snark. The song is basically about some arse who breaks hearts and is hated in his hometown. But it goes further than that on lines like "And where you'll go, no one cares to know" and the funniest line, "Only 'Go, Fuck You' on the road signs and poison driving your mind." Whomever this song is written about, or if it's just a caricature, it's mean as hell, in a good way.
One of the most interesting tracks is "Bitter Suite," that sounds like a religious hymnal. It seems like someone has been to a Catholic mass or two. "Reassures me, with a sigh and he opens the sky, to the light …" well, you don't have to reach too far to realize this is about life and death and Mills own health issues, which he has overcome.
You are going to get an '80s vibe from the guitars on "4 in the Morning." It'll remind you of his project China Blue, a band he played with Ragno in. The chorus is the most melodic on the album, or tied for first, and it's not as dark as many of the other compositions on Over My Dead Body. It's a standout track on a standout album.
"Somewhere in London" Mills has stated is likely the next single. It's a bit of the opposite of "We Should Be On By Now," both musically and lyrically. It's hard not to compare Mills to Steve Perry sometimes, especially when he sings completely "clean," as he does here. It's a song of loss, looking back with fond memories of someone who is no longer in your life, and paints a vivid portrait of London with references to Soho, Portland Place, and Bayswater Road.
"Free Spirits" is the appropriate ending to Over My Dead Body. As much of the album touches on, it's about living your life, dammit! But it's really about LOVING your life while you are still here as well. The line "But the holding of a hand, is the promise of a better land," coupled with "I don't know if there is light, after your life" cements that sentiment. So while some of the album is dark, it culminates in asking the listener to just find happiness.
None of this lyrical acumen, great songwriting, or star-studded band components would matter a whit if Mills wasn't such a great singer. But he is a great singer. So when all of the elements work this well together, you have one of the best albums of the year. That album is Over My Dead Body.
Genre: Hard Rock, Metal
Band:
Drums – Andreas Nergard
Bass – Andreas Passmark, Victor Borge, Henning Ramseth.
Fretless – Neil Kernon
Guitars – Paul Sabu, Robert Sall, Henning Ramseth.
Keys – Douglas Docker, Robert Sall, Eric Ragno and Henning Ramseth
Vocals – Tony Mills and Douglas Docker
Track List:
1. Time Won't Wait
2. 28 Flights
3. We Should Be On By Now
4. No Love Lost
5. Gate 21
6. My Death
7. Bitter Suite
8. 4 In The Morning
9. Northern Star
10. Somewhere In London
11. Free Spirits
Label: Battlegod Productions
Website: www.tonymills-official.com
Hardrock Haven rating: 8.9/10