by Joe Mis
– Senior Columnist —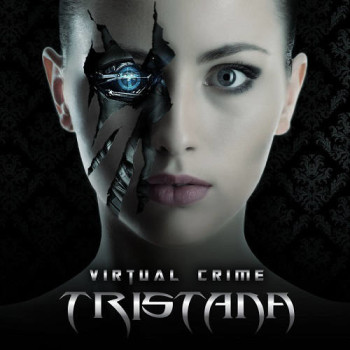 Founded in the late 1990s, Slovakia's Tristana brings inspiration from the wilds of the Carpathian Mountains to their power metal. Cold, snow swept forests and magical mountain landscapes form a mystical backdrop for the band's blend of power, death, and Gothic metal. Too melodic to be Death Metal, too light to be pure Gothic metal, and too mystical to be pure power metal, Tristana's music pulls in the best elements from each genre and stands out in a crowded field. Delivered with the technical precision one comes to expect from power metal, Virtual Crime delivers on all fronts.
Despite the band's 15 year plus lifespan, Virtual Crime is only Tristana's third album. They released their full length debut Back To The Future in 2003, and followed with Zircon Street in 2010. Now at long last Virtual Crime continues the strong songwriting, performing, and genre-blending that brought Tristana's earlier albums a good deal of positive press. The band's lineup has changed a number of times over the years, leaving bassist Ladislav Krabáč as the only original member still in the quintet. Vocalist Peter Wilsen joined after the 2003 album and then left in 2005, causing the band to take a two year hiatus. Rejoining in early 2007, Wilsen and the band began work on what was to become 2010's Zircon Street. The lineup is now bolstered by guitarist Dušan Homér, keyboard player Andrea Almáši and the drummer Norbert Kupecz.
Tristana's musical tightness is without doubt. They depend a bit more on keys and synths than some of their contemporaries, but they are by no means and electronic band. Wilsen does a great job with both clean singing and death growling – quite understandable even at his grittiest. Their lyrics are dark, influenced by fantasy and horror themes – a result of the aforementioned vampire infested Carpathian Mountains no doubt! The balance of the band is very tight, delivering strong rhythms and complex tempos. They can go heavy or light, gritty or melodic – in fact "one song has an almost Pop-rock, duet-rock feel (at least until the Death vocals kick in).
Heavy keys and distorted guitars open "Resurrection," but the brutal sound quickly moderates as Wilsen displays his remarkable ability to flip back and forth between clean vocals and gritty growls. This is one of the band's stronger pieces as every band member gets time in the spotlight and they all deliver. Synths and drums open the Ragnarok inspired "Fallen Hero," a track that lives on a fluid rhythm line that is crunchy during the death growl verses and smooth during the clean chorus. Kupecz lays down an intricate and energetic drum line during the heavy rocker "Wasted Time," and Wilsen has the chance to visit the low end of his vocal range. Speed metal seems to be a heavy influence of "Bloody Snow," but clean vocals and light keys during the chorus mixes it up. Homér's awesome guitar solo is a real eye-opener – the guy has some serious chops whether playing lead or rhythm. "Beg For Death" is pure dark power metal goodness.
"Jannie's Dying" is a real change – it is almost a Kiske-Somerville style duet (albeit with a few death growls thrown in). While not a ballad by any means, the contribution of female vocals by an uncredited singer (probably keyboard player Andrea Almáši) adds a touch of lightness to the song and album as a whole. Nicely done keys and drums make this one a more commercial pop / metal tune. The heaviness returns with the pounding and intense "Belladonna Deadly Nightshade," a track that demonstrates Tristana's love of contrast by constantly swapping heavy & light, gritty & melodic. "Killer" is indeed killer, blending power metal with old school heavy metal. Krabáč's gloomy bass is the driver here. The main riff of "Lost The Whole Life" has a bit of a Savatage feel to it, and Wilsen's vocals on "Hunting Fever" are his best on the album. Homér's guitar break is also short but very sweet. "Ending (Outro)" is just that – a soft and somber keyboard instrumental with no vocals or other instruments. While hauntingly beautiful it is jarringly different and very out of place, seemingly a time filler as there is no "Intro" or other instrumental piece, nor does it reprise any of the other tracks.
The one noticeable weakness of Tristana's music is a song to song structural similarity. Too many of their tracks open with a few bars of heavy keyboards/synths backed with a single instrument, and then the guitars come slamming in. Most of the songs are about the same length – somewhere between 3:30 and 4:08 Their more memorable tracks are the ones that deviate from the pattern. Arguably the two best tracks are the longest and shortest on the album – "Wasted Time" at 5:13, and "Beg For Death" at 2:52. The duet "Jannie's Dying" also is a standout due to its differences.
Overall, Tristana's Virtual Crime is a very good album. Well written songs are delivered by tight performances, and the mix of the album keeps the music clean and accessible. The band does need to add some variety to their songwriting style to keep their material from becoming cookie cutter, but considering that it is only Tristana's third release and coming off a 5 year break there is hope of growth. The mix of genres should provide broad appeal, striking a chord with fans of Gothic, power, or symphonic metal. Let's hope we don't need to wait another 4 or 5 years for a follow up.
Genre: Power Metal
Band:
Peter Wilsen (vocals)
Dušan Homér (guitar)
Ladislav Krabáč (bass)
Andrea Almáši (keyboards)
Norbert Kupecz (drums)
Track Listing:
1. Resurrection
2. Fallen
3. Wasted Time
4. Bloody Snow
5. Beg for Death
6. Jannie's Dying
7. Belladonna Deadly Nightshade
8. Killer
9. Lost The Whole Life
10. Hunting Fever
11. Ending (Outro)
Label: Bakerteam Records
Website: http://www.tristana.sk
Hardrock Haven rating: 7/10