Uli Jon Roth's Xtreme Guitar Tour
by John Kindred
– Publisher —
Feb. 11, 2015 at The Scene K.C. Rock Bar in Kansas City, MO. —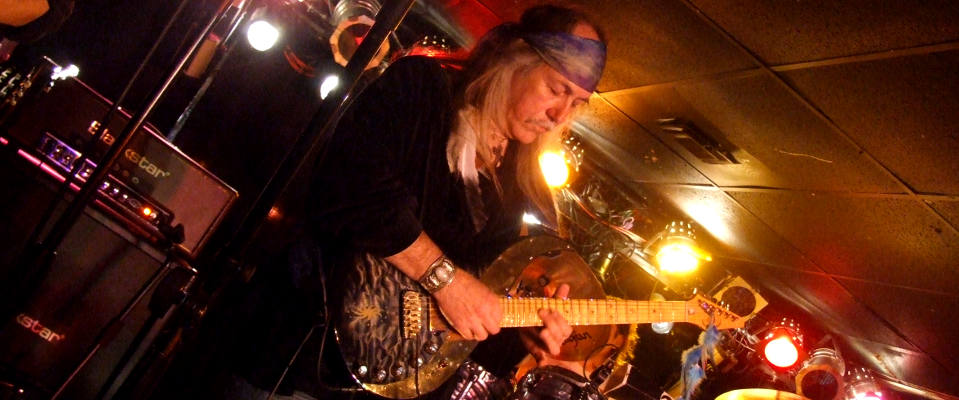 Following the release of his latest two-CD studio album, Scorpions Revisited, Uli Jon Roth arrived in Kansas City to perform a career-spanning set of music.
With his last appearance in Kansas City occurring just over 30 years ago, Roth was greeted by mostly middle-aged rockers who seemed to be true to holding on to the memories of the glory days of Hard Rock. Fans on hand had their memorabilia ready to be signed. And they were eager to see and hear the legend.
While most know that Uli Jon Roth replaced Michael Schenker in the Scorpions in the early '70s, his career with the band lasted from 1973 – 1978 and produced some of the band's best material. After leaving the Scorpions, Roth went on to have a successful solo career. But he never has garnered the recognition that those with lesser talent have heaped upon themselves.
Roth's touring lineup includes drummer Kofi Baker (son of legendary Cream drummer Ginger Baker), guitarist David Klosinski, keyboardist Allesandro Bertoni, bassist Elliot Rubinson (Dean Guitar CEO) and John West on vocals.
To be honest, the familiarity with Roth's body of recorded material wasn't the driving force to see him live. It is his legendary status as a musician, who obviously influenced the guitar players of the late '70s and beyond.
With that said, the Scorpions' songs that were performed were amazing. John West's voice was powerful and emotive, and just like Klause Meine, he nailed all the notes with relative ease. Roth is the first-ever guitarist who could be referred to as a Hippie-shredder. While his body physically is on stage and his hands create magic with individual notes and rhythmic progressions, his eyes are closed, as if he seems to be in deep spiritual trance – attaining the inspiration and giving it out to the audience. His touring band was rock solid. Guitarist David Klosinski provided backing rhythms and performed the second harmony solos and riffs alongside Roth. Kofi Baker, who had injured his leg before the show, pulled himself together and rocked the drum kit. Support from keyboardist Allesandro Bertoni and bassist Elliot Rubinson iced the cake.
Visit Uli Jon Roth online here.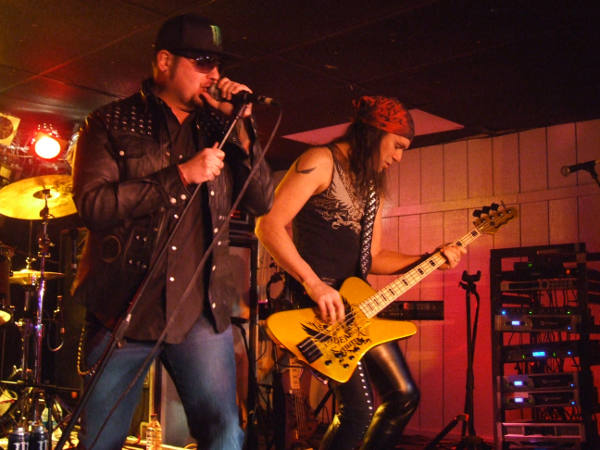 Black Knights Rising, while at first glance, appears to be another version of the tribute band Dio's Disciples, actually pays homage to two of Hard Rock and Metal's legendary artists: Ritchie Blackmore and the late Ronnie James Dio. The music covered by the band included songs from Black Sabbath, Dio, Rainbow and Deep Purple.
Black Knights Rising originally started out as a three-piece outfit, which was put together in 2013 by Craig Goldy to perform sets at the NAMM convention.
The version of Black Knights Rising that took the stage tonight included Craig Goldy (Dio, Giuffria, Rough Cutt), Vinny Appice (Dio, Black Sabbath, Heaven and Hell), Elliot Rubinson ((Uli Jon Roth, Michael Schenker Group), Tim "Ripper" Owens (Judas Priest, Yngwie Malmsteen). And it also featured vocalist John West performing a vocal duet with Owens on the Deep Purple classic "Burn."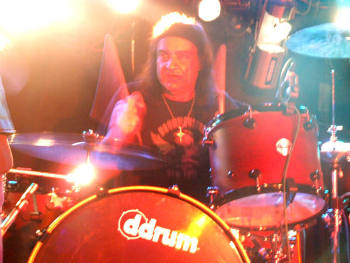 Hand down, the star of this performance was Tim "Ripper" Owens, who made it clear that this performance was for Ronnie. While we all know him as "that guy who replaced Rob Halford in Judas Priest," his voice harnessed the emotional delivery of Dio and was damn close in many respects to the presentation. He covered Ian Gillen as well on "Highway Star" and "Burn," and I reckon his version was more Dio than Coverdale on the song "Mistreated." Starting with the Rainbow cover "Death Alley Driver," which was originally sung by Joe Lynn Turner, got the ball rolling.
Vinny Appice was rock solid behind the kit. He showcased his talents with the obligatory drum solo. He utilized a minimal DDrum kit (kick, tom, snare, high hat, cymbals) but used all facets to rock the hell out of it. It was apparent that these "rock stars" were humble and very down to earth. Goldie did his best Blackmore, Iommi and Campbell interpretations and was in total command his electric onslaught, ESP axe in hand. Elliot Rubinson split duties on bass with Roth's band and Black Knight Rising, and, again, he was solid and thunderous.
Visit Black Knights Rising here.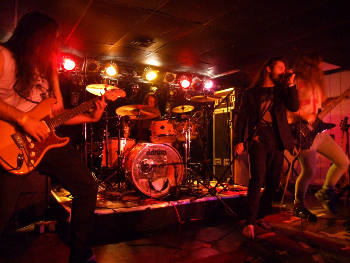 Canadian rockers Old James was the opening band. Band members Brian Stephenson (vocals, guitar) Andy Thompson (guitar), Jon Ublansky (bass) and Chris Stephenson (drums, backing vocals) performed a brief set to warm up the crowd. You can find Old James online here.
The musicians that graced the stage this evening featured musicians, who, at one time or another, have performed and recorded with Hard Rock's most notable bands including: Black Sabbath, Deep Purple, DIO, MSG, Rainbow, Trans-Siberian Orchestra, Scorpions, UFO and Yngwie Malmsteen.
Uli Jon Roth Concert Photo Gallery
Visit the band online: Uli Jon Roth