All That Remains | The Order of Things
by Matt Karpe
– Senior Columnist —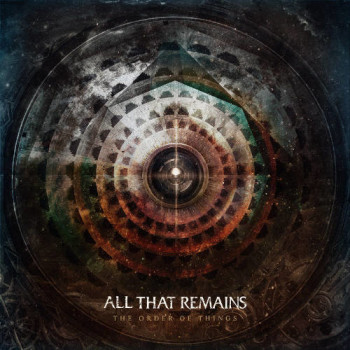 Fifteen years ago, All That Remains started out, but it wasn't until 2006 release The Fall of Ideals that the American bruisers truly arrived to the party. Mixing furious Metalcore with soaring melodies and infectious choruses, ATR struck gold and finally joined the big league.
Overcome, For We Are Many and A War You Cannot Win had roughly the same formula, but as the years progressed, the music began to head into Hard Rock waters, leaving behind some of what brought them to the dance in the first place. Look at forums and album reviews for the later albums and there seems to be a general consensus that All That Remains' best days were behind them.
And so to The Order of Things, ATR's seventh studio album. Other reviews have been heavily critical, and to be honest, this review isn't going to be much different.
There are still a few metalcore orientated tracks, but generally this is a generic hard rock album lacking in bite and originality. The heavier moments of "No Knock," "Pernicious" and "True-Kvlt-Metal" are fairly brutal; some might say classic All That Remains, but, along with most songs on the album, there are no 'classic' choruses that ooze melody and the aforementioned infectiousness.
The ironically titled "This Probably Won't End Well" seems to be prophetic. Promising to start with, Phil Labonte's clean vocal delivery is strained although the metallic guitar hooks are strong, but just when you think an explosive chorus is coming … nope, nadda, nothing. Played safe and all momentum is lost.
"The Greatest Generation" features the line, "Remember what made us great…" Obviously not meant in the same context but ATR have clearly forgotten that golden formula which originally brought them success.
The Order of Things is an ordinary, lackluster record that fails to hook the listener in and it's hard to see where All That Remains go from here. If they want to stay relevant, maybe they should answer the calls of their biggest fans who are begging to see the era of The Fall of Ideals revisited, and just bring the Metal back!
Genre: Hard Rock, Metalcore
Band:
Phil Labonte- Vocals
Oli Herbert- Guitar
Mike Martin- Guitar
Jeanne Sagan- Bass
Jason Costa- Drums
Track Listing:
1. This Probably Won't End Well
2. No Knock
3. Divide
4. The Greatest Generation
5. For You
6. A Reason For Me To Fight
7. Victory Lap
8. Pernicious
9. Bite My Tongue
10. Fiat Empire
11. Tru-Kvlt-Metal
12. Criticism and Self Realization
Record Label: Razor & Tie
Website: www.allthatremainsonline.com
Hardrock Haven Rating: 4/10