Azrael | Television Slave
by Justin Gaines
– Senior Columnist —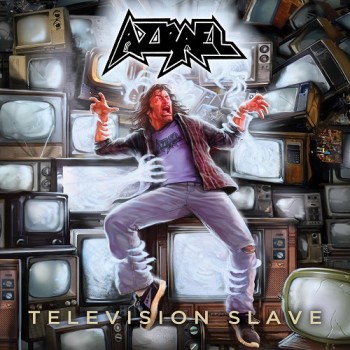 The Divebomb label is back with a new wave in its Bootcamp series, which spotlights overlooked demo releases, both new and old. This time they've set their sights on Azrael, a short-lived thrash metal band from the Florida scene in the late '80s and early '90s. Azrael was formed by Obituary guitarist Ken Andrews and also included Death guitarist Bobby Koeble. Their 1993 demo Television Slave was released only on cassette, but now more than 20 years later it is getting a proper CD release.
In terms of overall style, Azrael sounded much like you'd expect a thrash metal band in the early days of the '90s to sound. The aggressive high-speed riffing and sociopolitical lyrics come straight from the Bay Area playbook, though there's a technical side to these songs that set them apart a bit. The high-pitched/screamed vocals also stand out, making comparisons to bands like Overkill and Forbidden inevitable.
Divebomb's reissue of Television Slave goes way beyond the original 7-song cassette release. The songs have all been newly remastered, and the artwork has been updated as well. They also added the band's full 9-song 1988 Welcome demo (which has a much rawer sound) and some additional previously unreleased tracks to bring this collection to a hefty 20 songs. The booklet includes lyrics, a new interview and vintage photos. And as usual, the release is limited to 500 copies.
Azrael may not have broken any new ground, but this is some really solid U.S. Thrash Metal, and it's always good to discover hidden gems like this. Beyond the Obituary and Death connection, Television Slave is going to be a worthwhile pickup for just about any serious fan and collector of vintage Thrash Metal. And of course when the sound quality and overall packaging are this good, you know you'll get your money's worth.
Genre: Thrash Metal
Track Listing:
1. Jesus Freak
2. Apologies
3. They Live
4. Little Man In a Boat
5. Television Slave
6. Evolution's Mistake
7. Deadly Disease
8. Ignorance
9. Our New World
10. Chaos
11. Demons
12. A-Jam
13. Under the Lights
14. Death From Above
15. D.F.O.S
16. Hellsex Mosh
17. Welcome
18. Social Distortion
19. Deathmetal
20. Life Support
Label: Divebomb Records
Website: https://www.facebook.com/pages/Azrael/620825521288324?fref=ts
Hardrock Haven Rating: 7.5/10