Blaze Bayley and The Foundry heats up Ripper's Rock House
by Steve Patrick
– Senior Columnist —
Feb. 24, 2015 at Ripper's Rock House in Akron, OH. —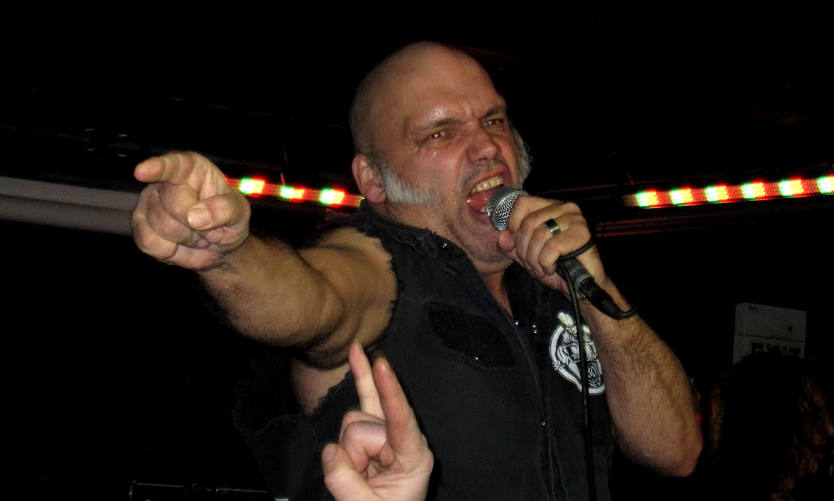 It made complete sense when former Iron Maiden vocalist Blaze Bayley explained onstage that his heavy metal cover band The Foundry got their name simply because they "make metal" and last Tuesday they did just that at Tim "Ripper" Owens' bar/restaurant/concert venue in Akron, OH. Owens himself is no stranger to fronting a classic metal bands as he once sang for Judas Priest, Iced Earth, and is also the vocalist for Beyond Fear and Charred Walls of the Damned.
For those who are unfamiliar with The Foundry, the band consists of Bayley on vocals, Twisted Sister's AJ Pero on drums, Disturbed's John Moyer on bass, and Black Symphony's Rick Plester on guitar. Needless to say, the group had plenty of songs and experience to draw from to create a memorable show.
The crowd at Ripper's Rock House was heavy with Maiden fans and the Trooper beer was flowing freely, so it's no surprise that when Bayley and company launched into hits like "Fear of the Dark" and "Wasted Years."
Thankfully for all those Maiden fans, the set drew heavily from their favorite band's material. Since Bayley was handling vocals, the song selection leaned on the Bayley-era of Maiden with underrated gems like "The Clansman," "Man on the Edge" and "Futureal" making an appearance. Bayley's time as the frontman of Wolfsbane was also acknowledged with a few songs as well as a handful of tracks from Bayley's solo albums. No matter what he was singing, Bayley handled the vocals effortlessly.
Twisted Sister fans got tossed a big bone in the middle of The Foundry's set when a medley of the hits "We're Not Gonna Take It," "You Can't Stop Rock 'n' Roll" and "I Wanna Rock" were performed as a lead into a monster Pero drum solo. The cowbell never sounded so good.
What truly made the night memorable were the moments when Ripper and Blaze shared the stage and shared vocals. It was clear that the two are good friends from both touring together in the past and also sharing similar experiences as frontmen. The duo ripped and blazed (puns definitely intended) through the Maiden classic "Wrathchild" and Priest's "Breaking the Law" and "Living After Midnight".
The guys in The Foundry, and Ripper as well, all hung around to take photos and sign autographs for any fan who wanted one. This really capped off a great night of classic metal for all who had the privilege to be in attendance. By the way, try the "Judas Priest that's a MONSTER PHILLY!" with fries. Delicious!
Blaze Bayley and The Foundry Photo Gallery
For more information on Blaze Bayley, visit: