Def Leppard | On Through the Night
by Derric Miller
– Managing Editor —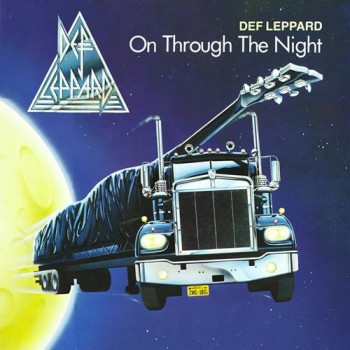 Before we all got aural diabetes from hearing schlock like "Make Love Like a Man," "Have You Ever Needed Someone So Bad" or "Long Long Way to Go," Def Leppard used to be a balls out Hard Rock band that changed the face of the music industry with Pyromania. Sure, they eventually lost their way but to say they aren't one of the most influential Hard Rock acts in history is balderdash and poppycock. And the album that introduced the world to Def Leppard was 1980's On Through the Night.
With On Through the Night, guitarist Phil Collen wasn't even in the band yet, and the demons that started following guitarist Steve Clark had barely begun knocking on his door. Clark eventually lost his battle with the bottle, but then-guitarist Pete Willis was the biggest boozehound in the band. This was a time when Joe Elliott didn't even really know how to sing; he certainly wasn't going to pull off "Rock of Ages" at this age. This was raw, unpolished Def Leppard, a band just finding its sea legs.
"Rock Brigade" is the lead track, a simplistic yet somewhat melodic straight ahead anthem. Elliott's voices warbles a bit during the end of the chorus as he holds the note on the word "away" and it sounds perfect. This isn't some sort of clinic for vibrato or laryngeal tilt; this is pure Hard Rock 101 vocals. Shout it out and let 'er rip!
It's too bad the gents got slapped around in their native England for song "Hello America." Critics and fans labeled it "pandering" and the like. Yeah … they just grew up watching The Beatles go from being a Liverpool favorite to the biggest band in the world once they broke in America. If your whole reason to be in a band is to become a global phenomenon … it's a grand idea to break into the American musical consciousness. Again, Pyromania anyone? While "Hello America" is a searing rocker, the chorus is the first time you hear the formulation of their melodic sensibilities that drove Hysteria to hysterical heights. The solos are chunky at one moment and then precise at the end, and the breakdown, just drums and vocals after the main guitar solo is intense. Just so much music to digest in one killer track.
Def Leppard shows they can play with a deft touch on "Sorrow is a Woman." This is a more atmospheric track, with tempo changes, acoustic guitar, a rhythm and bass driven construction led by bassist Rick Savage and drummer Rick Allen. Elliott hits one of the highest notes he can at this time, an airy and forced grappling of vocal chords that is ridiculous and awesome at the same time.
The rhythm during the chorus of "It Could Be You" is innately sexual. There's a driving groove, an internal metronome counting time as you … well it's all about sex, drugs, rock and roll during this decade, wasn't it?
You first hear those memorable Steve Clark patented guitar licks on "Satellite." Later in their career, it seemed most of their songs leaned towards relationship themes and gross things like "emotions." It's nice when they were more metaphorical and abstract in some ways, and less singing about women's body parts or in totality.
It's almost a Sisyphus-like endeavor to get your head around the fact that the same band who wrote "Let's Get Rocked" also wrote one of the best heavy drinking songs of all time, "Wasted." Along with "Me and My Wine," there's very few songs (not written by AC/DC) that measure up to the "party like a rock star" ideal than "Wasted." It's too bad they lost this edge after High and Dry, but if "Wasted" isn't one of your Top 10 favorite Def Leppard songs, and really, Top 5, you are just a casual fan at best. This is the best song on On Through the Night.
If that's the best, then "Answer to the Master" has to be a close second. Today, no Metal fan would say "Def Leppard" when asked to name a classic New Wave of British Heavy Metal band. BUT … in 1980, that's how their music was classified. If any song deserves that brand, it's "Answer to the Master." The guitar solo at about 1:50 in could come off a Maiden composition. There's a darkness and depth that defines that genre you won't hear on songs like "Wasted," but they certainly show their influences on this song.
The story has been told. Some 35 years later, Def Leppard's indelible mark on Hard Rock's hierarchy can only be applauded and envied. At one time—for a long damn time—Def Leppard was one of the biggest bands on earth. With Pyromania and Hysteria, that's about 32 million sales JUST in North America. (Hello America!) They were the face of MTV, a band that sold out 100,000 seat stadiums, and a band that has left behind some of Hard Rock's best anthems: "Rock of Ages," "Photograph," "Foolin'," "Bringing on the Heartbreak," the ode to Clark "White Lightning," the odes to boozing that have already been explained. But all of that came to fruition because of their first album, their first creative endeavor, On Through the Night. If you want to know how the story ends and don't care about the beginning, then go start with Slang or X. But this album is the reason Def Leppard grew to conquer everything in their path later in their career. It's the birth of a legacy, and a damn fine Hard Rock album to boot.
Genre: Hard Rock
Lineup:
Joe Elliott – lead vocals
Steve Clark – guitar
Pete Willis – guitar
Rick Savage – bass guitar
Rick Allen – drums
Tracklisting:
1. Rock Brigade
2. Hello America
3. Sorrow Is A Woman
4. It Could Be You
5. Satellite
6. When The Walls Came Tumbling Down
7. Wasted
8. Rocks Off
9. It Don't Matter
10. Answer To The Master
11. Overture
Label: Mercury Records