Jim Peterik with Lisa Torem | Through the Eye of the Tiger
by Alexandra Mrozowska
– Senior Columnist —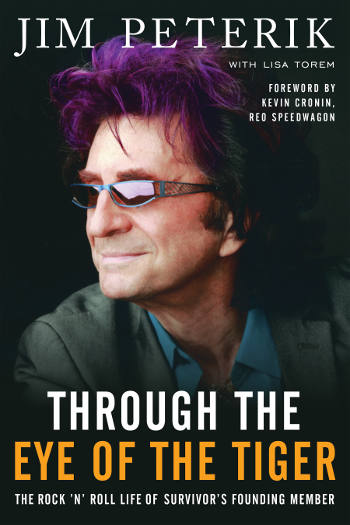 Through the Eye of the Tiger: The Rock 'n' Roll Life of Survivor's Founding Member
Survivor's "Eye Of The Tiger" and "Burning Heart", 38. Special's "Rockin' Into The Night", Sammy Hagar's "Heavy Metal" … we all know these songs so well, word by word and note by note. And even if 30 years ago one could have easily dismissed them by saying they're just radio-friendly Top 40 hits – as time goes by, it becomes clear there's a certain timeless quality to them, way more than just a catchy chorus or well-crafted melody. But apart from this fact, there's also another that has to be mentioned; all these songs and a countless number of others that once ruled the charts and radio airwaves were penned by one man, Berwyn-born Jim Peterik or Jimbo, as he is called. Forty four years after his song "Vehicle" hit the Top 3 of the Billboard Hot 100 Chart – and thirty two years after the enormous success of "Eye Of The Tiger" – Peterik decided to take a look back on his career and personal life. Co-written with a Chicago-based journalist Lisa Torem and entitled Through the Eye of the Tiger: The Rock 'n' Roll Life of Survivor's Founding Member, his autobiography hit the book store shelves in 2014 via BenBella Books.
Even though the book is a collaborative effort of Peterik and Torem, it's the Survivor's lynchpin that is the only "voice" of the story. Thus, the first person narration used throughout its entirety adds much to the overall impression of authenticity. Through the Eye of the Tiger is not a strictly chronological sequence of events, but rather a set of individual, personal experiences. The reminiscence process is smooth and natural, with relatively unrestrained flow of Jimbo's thoughts, frequent shifts in time, retrospectives and flashbacks, digressions and personal commentary. A book of considerable length, it is divided into 30 chapters, each titled with either a straight citation or a wordplay based around Peterik-penned songs. A preceding foreword was provided by REO Speedwagon's Kevin Cronin. "I want to know his secret", Cronin writes, and this is something every reader actually aims at while reaching for this autobiography.
For the '80s AOR and Melodic Rock fans, Survivor fans in particular, the book is an essential read as it provides a reader with a deep insight into the dynamics of the band, shedding light on how the hit-making machine worked from the inside and who were the people behind the personas their audience saw on stage. A candid and open storyteller, Peterik not only elaborates on the band's success but also doesn't avoid broaching the 'sensitive' topics. Not only are the personal changes within Survivor's line-up or the conflicts between the band members depicted in painstaking detail – also the latter, not-so-glorious part of the group's history is not to be omitted. However, it's certainly not a book on Survivor as the band is only a part of Jim Peterik's output, acts such as The Ides Of March or Pride Of Lions being equally important to the story. Through the Eye of the Tiger therefore shows many different dimensions to the persona behind the multitude of '80s hit singles.
In spite of the book's clichéd subtitle, however, there's not much on 'rock 'n' roll life' in its content – at least, in the sense that's embedded in popular imagination, gallons of alcohol beverages and notorious backstage antics included. What a reader is presented with is a candid, lengthy account of a working musician's life from his childhood through the '60s to the modern era rather than a sensational vignette on sex, drugs and rock'n'roll. And even though there are plenty of intimate details from Peterik's personal and family life elaborated on, they serve to establish the perspective rather than shock. However, it doesn't mean that Through the Eye of the Tiger lacks vividness or humor. There's hardly a Jim Peterik fan, or a music fan in general, that will not enjoy this tale comprised of funny childhood memories, familiar juvenile experiences and the big years of forging a successful career in the music industry.
It's towards the very end of the book that the history comes full circle – as Peterik reminisces upon his recent collaboration with his early favorites The Beach Boys, the impression is that it's the young Berwyn-based music fan rather than the acclaimed, mature musician/songwriter who becomes the narrator. And that was, perhaps, the true purpose of writing this memoir – to show that neither the fame and fortune, nor shameful failures could have ever quelled a real passion for writing and performing music. It's absolutely true in Jim Peterik's case, as his autobiography ends on him being not a leather-clad rock star (although he developed more eccentric sense of style recently!) but rather a happy and fulfilled husband, father and artist who doesn't need sold-out arenas and limos to pursue his lifelong love for music and songwriting. Through the Eye of the Tiger: The Rock 'n' Roll Life of Survivor's Founding Member by Jim Peterik and Lisa Torem is thus a perfectly crafted memoir as it not only deals with the past, but also links it to the present and still leaves the door open for the future. It's an account of Jim's personal and artistic struggle, but also of fruitful and sometimes turbulent collaborations and relationships – and, to some extent, a nod to absent friends: Fergie Fredriksen and Jimi Jamison, whose untimely death was close in time to the book release date. All things considered, it's an excellent reading that should be recommended.
ISBN: 978-1-941631-27-0
Publisher: BenBella Books
Website: http://www.benbellabooks.com/