Kenn Nardi | Dancing With the Past
by Justin Gaines
– Senior Columnist —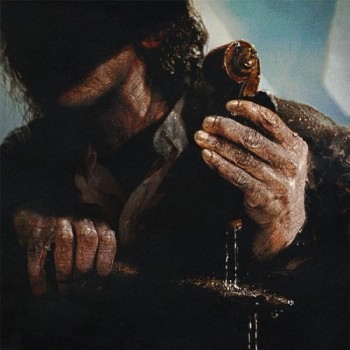 It's been more than two decades since the release of Screams and Whispers, the final album from the criminally overlooked progressive thrash band Anacrusis. The band's recent reunion gave fans hope for a new album, but that reunion proved short-lived. That did not deter singer/guitarist/chief songwriter Kenn Nardi, who was already penning new songs as far back as 1994! As 2014 came to a close Nardi delivered his first-ever solo album, titled Dancing With the Past. It's a massive 28-song release spread across two discs, and it showcases the amazing creativity and talent Nardi has to offer.
While Dancing With the Past does feature a handful of contributions from Nardi's Anacrusis bandmates, the vast majority of these songs are written and performed by Nardi, who also produced and mixed the album. As you might expect, much of Dancing With the Past could pass as a new Anacrusis album, if not two. Nardi has moved beyond the Thrash Metal constraints over the years though, so this set is much closer to Progressive Metal territory. Still, the signature elements of Anacrusis's sound – those unique guitar riffs, prominent bass lines and of course Nardi's varying vocal styles – are very much in place here.
Beyond just the similarities to those classic Anacrusis albums – which are huge and undeniably why most people will be checking this set out in the first place – Dancing With the Past finds Nardi bringing in a wide and fascinating array of sonic elements. There are symphonic elements, atmospheric acoustic passages, a strong Prog Rock influence and even nods to Gothic Rock and New Wave. And they all come together perfectly. The album maintains a cohesive feel and atmosphere no matter how avant-garde or experimental the songs get, or when the songs were originally developed.
Anacrusis fans have been waiting decades for new material, and while Dancing With the Past doesn't bear the Anacrusis logo, it absolutely has the Anacrusis spirit. And it's absolutely worth the wait. Kenn Nardi has put together a truly remarkable collection of innovative Progressive Metal songs here. In a genre where too many "progressive" bands have been content to follow an established formula, it's so good to see artists break from that formula and remind us what truly progressive music can be.
It goes without saying that Dancing With the Past is a must-have release for all Anacrusis fans. Beyond that, Kenn Nardi is an artist who just about any fan of Progressive Metal, particularly artists like Believer, Leprous and Cynic, should make it a point to hear.
Genre: Progressive Metal
Track Listing:
1. Unneccessary Evil
2. Fragile
3. Made
4. Armies of One
5. Lament in Rust
6. Dead Letters
7. Submerged
8. Await the Setting Sun
9. This Killer in My House
10. Straining the Frayed
11. The Dark and the Light
12. The Telling Skies
13. Untouchable
14. The Scarlet Letter
15. Blinding Lies
16. Spitting Bitter
17. Ordinary
18. Dancing With the Past
19. One World
20. Creve Coeur
21. A Little Light
22. Blood in the Water
23. Climbing
24. Stabbing Sorrow
25. Dead Man's Bones
26. Symbiotic
27. Beside Myself
28. The Runt
Label: Divebomb Records
Website: www.facebook.com/kenn.nardi.official
Hardrock Haven rating: 9/10