by Joe Mis
– Senior Columnist —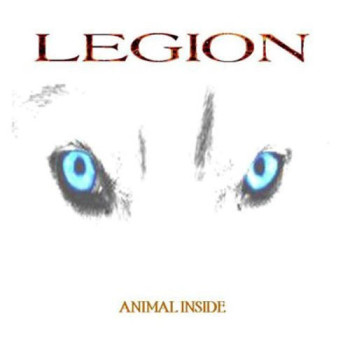 Animal Inside is the 7th studio release from Legion – the five-piece outfit fronted by Bob Catley's guitarist Vince O'Regan and the prolific Phil Vincent. These Melodic Hard Rockers have refined slick songs, catchy hooks, and toe-tapping rhythms down to a science but somehow produce lively and upbeat music that never sounds stale or repetitious.
Legion's lineup has remained the same since their last release, further cementing the solid teamwork that is one of the highlights of their music. Vocal dynamo Phil Vincent fronts the band, giving his performances a bit of a Dokken/Winger feel while belting out modern tunes with a clear and fiery delivery. Guitars, songwriting, and production credits go to Vince O'Regan, who once again proves he has true "guitar hero" chops. Bottom end and rhythms are provided by Gavin Cooper (Battlezone, Statetrooper) on bass, Andy Pierce on drums, and Irv Parratt on keys.
The band wastes no time when kicking off with "Fantasy" – a high-energy rocker with a blistering rhythm line. O'Regan is at the top of his rhythm and lead guitar game right off the bat. "Roll The Dice" is neat mid-tempo track highlighted by nicely layered vocals and a killer guitar break. "Only A Dream" has a bit of a Progressive Metal feel to it dealt by Parratt's keys and a laid back vocal delivery. O'Regan manages to conjure up a bit of George Lynch on the very gritty, bluesy "Waiting For the End Of The World," a heavy rocker and quite probably the strongest track on the album. The band changes it up a little on the ballad-like "Come Back To Me," a track with a simple and flowing rhythm line and powerful layered vocals.
"Turn Back Time" is a treat for fans of 80s/90s hair metal. Some light double bass drumming and heavy guitars kick this track into Winger/Dokken territory, while Vincent explores most of his vocal range. O'Regan gives himself a chance to show off a bit as a nice acoustic style bridge leads into a lengthy kick-ass solo. "Standing Alone" is all about the groove, fully driven by bass and drums. "Animal Inside" definitely has a Dokken feel to it – edgy, bluesy, and smoky, the powerful chorus is stellar, and the lead break is equally as impressive. "Black Cloud" is a guitar showpiece for O'Regan, a wonderful rhythm piece packed with mind (and finger) bending solos and fills. Brutal power describes the opening riffs of "Don't Mean Nothing," and that carries throughout. Every band member is at full song – firing on all cylinders. The teamwork displayed is perfect, and this track is a great wrap to the album.
As with all of Phil Vincent's projects, the music of Legion is heavy and edgy – yet always melodic. In this case, Vincent and O'Regan did the lion's share of the songwriting and O'Regan handled much of the production – doing a very good job of both. The band's sound is crisp and clean without being sterile. The balance of vocals and instruments is excellent, as are the production values as a whole. While a bit heavier and more focused that some of Legion's past efforts, Animal Inside pulls no punches and is Legion's finest work to date. This is a mature album in terms of songwriting and delivery, and the band's veteran polish is the icing on the cake.
Legion's Animal Inside is highly recommended for fans of hard rock, melodic metal, guitar driven rock, and Phil Vincent's vocals!
Genre: Melodic Hard Rock
Band:
Phil Vincent (vocals)
Vince O'Regan (guitars, keyboards)
Gav Cooper (bass)
Irv Parratt (keyboards)
Andy Pierce (drums)
Track Listing:
1. Fantasy
2. Roll The Dice
3. Only A Dream
4. Waiting For The End Of The World
5. Come Back To Me
6. Turn Back Time
7. Standing Alone
8. Animal Inside
9. Black Cloud
10. Don't Mean Nothing
Label: Z Records
Website: https://www.facebook.com/pages/Legion/200808423287009
Hardrock Haven rating: 8.5/10