LIVE! | Motionless In White Concert
by Anabel Dflux
– Senior Photojournalist —
March 11, 2015 at The Roxy in West Hollywood, CA —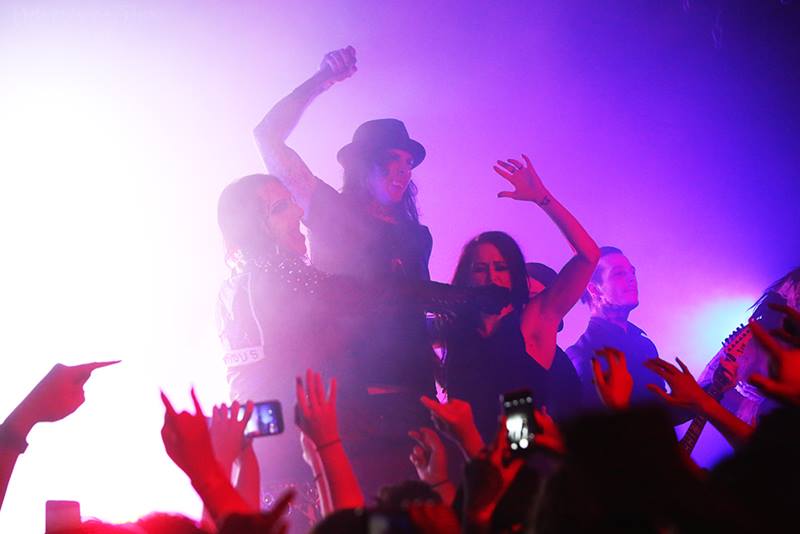 Candles, makeup, and Metal… Motionless in White are back, and they're breaking down all of the barricades for the 'Beyond the Barricade Tour' 2015! One of the most infamous bands to rise to fame in this day and age, Motionless in White have congregated an impressively large group of fans- many of which stood in line during the early morning to nab a good spot in the venue.
Having played a unique amount of both grand and intimate venues, fans were treated to a very personal show at the Roxy on Sunset, in which the band took pride in (literally) removing the boundary between performer and audience member. Concert goers were crowd surfing to the stage, singing along, interacting with the band members on stage, and creating an all-around unique experience in which music physically perpetrated into the lives of those in attendance.
The set list ran through songs from the previous albums Creatures and Infamous, as well as favorites from Reincarnate, a CD that definitely struck a fantastic chord with music enthusiasts everywhere. A cover of Rammstein's infamous "Du Hast" was snuck in there as well, turning the venue into a German industrial club for a brief moment.
Attendees were treated to a slew of guest performers that brought a new life into the songs, it is Hollywood, and surely anything could happen! The Infamous single "A.M.E.R.I.C.A" brought guest vocalist Michael Vampire (best known as the front man of Vampires Everywhere!) to the stage, which caused an onslaught of excitedly screaming fans to push to the front and reach out to the musicians before them. One of which found her way to the stage to sing along, adding to the unique experience this show had to offer. Never-before-heard-live song Final Ditcvm featured guest vocalist Tim Skold on stage playing his part, something that was rather unexpected and very pleasantly received! Hollywood certainly felt spoiled at that point. From the Reincarnate album the song "Contemptress" brought forth Ash Costello to sing the female parts of this love/hate duet, enjoyably tying her band New Years Day (one of the openers for the tour) to the headlining act!
Motionless in White front-man Chris Motionless put on a splendid performance, with powerful vocals and note-worthy fan interaction! His jacket featured Bauhaus on the back, and wonderful ode to the rock band. Guitarist Ricky Horror was consistently bathed in light from the intense stage lighting, which made his rocking out almost ethereal in quality. Devin "Ghost" Sola donned a mask based on a popular horror film character, and a stunning bass that definitely made the venue gasp. Josh Balz serenaded the keys, adorned in black sclera contacts and an over-sized hood, a creature truly. Ryan Sitkowski took over the other side of the stage on guitar, performing with an edgy, suave quality.
A band that has grown to be a sight to see, be sure to catch Motionless in White the next time they find their devious way to your city.
Members:
Chris Motionless – Vocals
Ricky Horror – Guitar
Josh Balz – Keyboards
Ryan Sitkowski – Guitar
Devin "Ghost" Sola – Bass
LIVE! | Motionless In White Concert Photo Gallery
Visti the band online: http://motionlessinwhite.net/