Manfred Mann's Earth Band | Chance
by Alissa Ordabai
– Senior Columnist —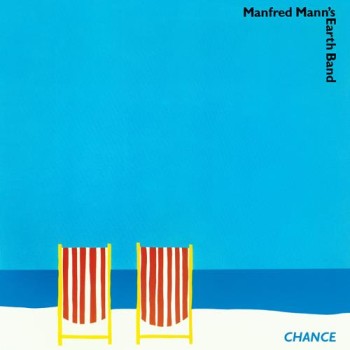 The album opens on an upbeat note:
We're gonna live out the Hollywood dream
All through the Eighties
Everything's gonna be just what it seems
All through the Eighties
Gonna find a better way to run our cars
All through the Eighties
And our feet are gonna point away from the past …
All through the Eighties
And another generation will talk about "Their Generation"
The cheery, self-confident way in which the song greets the upcoming decade is a typical Manfred Mann trick: making uncertain things feel certain, big things — mundane, as well as turning ordinary things into utter phantasmagoria. On their tenth record Manfred Mann's Earth Band stick to this inverted-universe formula, but joyfully so — in stark contrast to the album's predecessor Angel Station where the weirdness meter went up to 11.
The witchy charm of Chance comes at you with a hopeful, direct vibe, and at the same time manages to remain an enigma. Standout "Stranded" is exactly this kind of outer-space gem: a seemingly simple pop tune aglow with echoes of cosmic symphonies overheard in a different galaxy. The world which ordinary people can glimpse only when on the threshold between wakefulness and sleep seem to be a regular reality to this band.
The way Mann spaces his notes and phrases, lets silences speak, orchestrates and layers texture, and the way he contrasts laconic melodies and exuberant impro — all this is half-acqured (from his thorough knowledge of jazz), and half-inspired by his love for pop. Not only does "Stranded" confirm how Mann can unite effortless earworm songwriting with exquisite prog arrangements, but it also prepares you for the biggest whopper of this release which follows next: a version of Dennis Linde's "Hello, I am Your Heart". The chugging country rock original here turns into a trance-inducing revelation. The hypnotic vocal ostinato, the heavy guitar riff, the pregnant pauses layer meanings that reach to the core of our relationship with ourselves — the channel that stays open throughout the album, but appears at its most transparent on this track.
An expert in musically-induced altered states, an impeccable pop composer, and a prodigious improviser, Manfred Mann enters the Eighties as a proud torch-bearer of the prog era, the keeper of psychedelia's flame and — as always — an instantly accessible songwriter who manages to sound both timeless and contemporary.
Although the Eighties became a much more complex decade than this album envisions, and many of the 70s stars soon began to lose prominence, the MTV era couldn't have happened without seers such as Mann. His genius for combing catchiness and eccentricity resonated in the quirkiness of the New Romantics and electronic pop. His is gift for turning other people's obscure oddball tunes into big-riff anthems encouraged young geeks to become stadium acts. And his knack for cryptic ambivalence refracted in the 1980s alternative rock.
These days Mann still tours and records albums, and anyone who sees him perform these days will be inspired — not only musicians, but regular folks too. After all, it's pretty startling to see someone who is 74 look like a 35-year-old, playing his old hits (some of which date as far back as 1963) which more flair and imagination than the majority of young acts do these days.
Genre: Progressive Rock, Hard Rock
Personnel:
Manfred Mann – keyboards, vocals ("Adolescent Dream")
John Lingwood – drums
Pat King – bass, bass pedals
Steve Waller – guitars, vocals ("Hello, I am Your Heart")
Chris Thompson – vocals ("Lies Through the 80s", "On the Run", "For You")
Trevor Rabin – guitars
Robbie McIntosh – guitars
Geoff Whitehorn – guitars
Dyan Birch – vocals ("No Guarantee")
Willy Finlayson – vocals ("Heart on the Street")
Peter Marsh – vocals ("Stranded")
Carol Stocker – backing vocals
Barbara Thompson – saxophone
Track Listing:
1. Lies (Through the 80s) (Denny Newman)
2. On the Run
3. For You (Bruce Springsteen)
4. Adolescent Dream
5. Fritz the Blank
6. Stranded
7. Hello, I Am Your Heart (Dennis Linde)
8. No Guarantee
9. Heart on the Street (Tom Gray)
Label: Bronze (UK), Warner Bros. (U.S.)
Online: www.manfredmann.co.uk