Nick Johnston | Atomic Mind
by Alissa Ordabai
– Senior Columnist —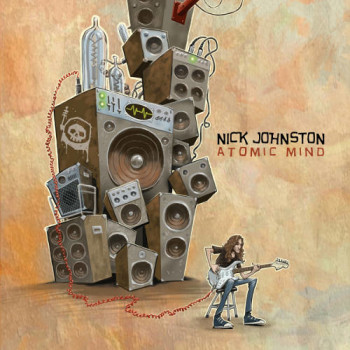 Here is a collection of ten home-made tracks which proves you don't have to have virtuoso chops or a huge production budget to create your own universe. Johnston uses styles ranging from country to surf as launching pads for his extrapolations, and each time manages to take you outside of the everyday. Opener "Atomic Mind" takes you in immediately. Propelled by aggressive riffing, the through-composed gem blends in a languid melody into the rhythmic fabric of the piece. It is done so seamlessly, you instantly know you are dealing with a real composer — daring and unafraid of far-flung extrapolations.
"Wonderful Madness" is another highlight where the slow-paced melody tells a multi-layered story. Satriani's stamp is more obvious here than on any other track. But the maestro's influence is hard to escape these days if you try to make instrumental guitar sound both complex and accessible. And Johnston knows how it's done: "Ultra Force" is as memorable as any quality pop tune, and so is "Lost in a Dream," proving that a piece of music doesn't have to have vocals to stay with you for days.
Abrasive, overly distorted guitar tone does get on your nerves by the end of the record, but Johnston's ideas make up for this irritant. This is nothing a pro engineer/producer can't cure, and hopefully Johnston does get into a pro studio setting at some point. Simply because his ideas deserve to be presented at their best to be heard by fans of instrumental guitar, as well as by fans of great songwriting.
Genre: Instrumental Guitar Rock
Band:
Nick Johnston — guitars
Marco Minnemann – drums
Bryan Beller — bass
Guthrie Govan — guest solo on "Silver Tongued Devil"
NJ — guitars
Track listing:
1. Atomic Mind
2. Ghost of the Robot Graveyard
3. Last Deals of Dead Men
4. Silver Tongued Devil
5. Out of the Wasteland
6. Wonderful Madness
7. Ultra Force
8. Scoundrel's Lounge
9. Lost in a Dream
10. My Final Days on a Doomed Planet
Label: Self-released
Online: http://www.nickjohnstonmusic.com/
Hardrock Haven rating: 7/10